The products and services mentioned below were selected independent of sales and advertising. However, Better Home + Living may receive a small commission from the purchase of any products or services through an affiliate link to the retailer's website.
I'm a sucker when it comes to cool gadgets. The other day, I saw the Divoom Pixoo 64 while browsing the web and thought it would look lovely behind my desk. So, I purchased it as any sane person would do.
After using it for a few months, there are things that I love about it and things that I wasn't crazy about, and in this review, I will give you all the details.
If you're considering purchasing the Divoom Pixoo 64 for yourself, keep reading this article, and I'll explain my experience.
The Features of the Pixoo 64
The Pixoo 64 is a wifi pixel art display with a 64×64 LCD panel. It's the perfect decoration for any gaming room, bedroom, or family room. I would say that it fits almost any room that you put it in. You may have to get permission from your wife first.
Advertisement
Learn What Scientists Discovered is Always Present in the Mouth of People with Healthy Teeth and Gums / Learn More Here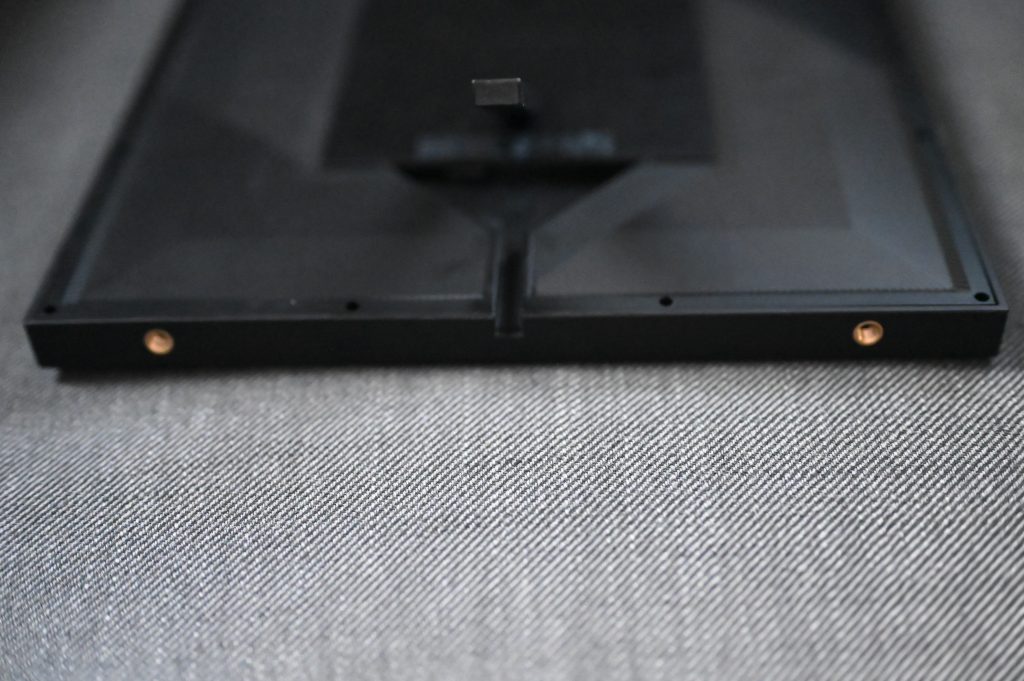 You can use the Pixoo 64 to create your own pixel art or choose from a marketplace of thousands of designs. Just search for a design, and you'll find something you like.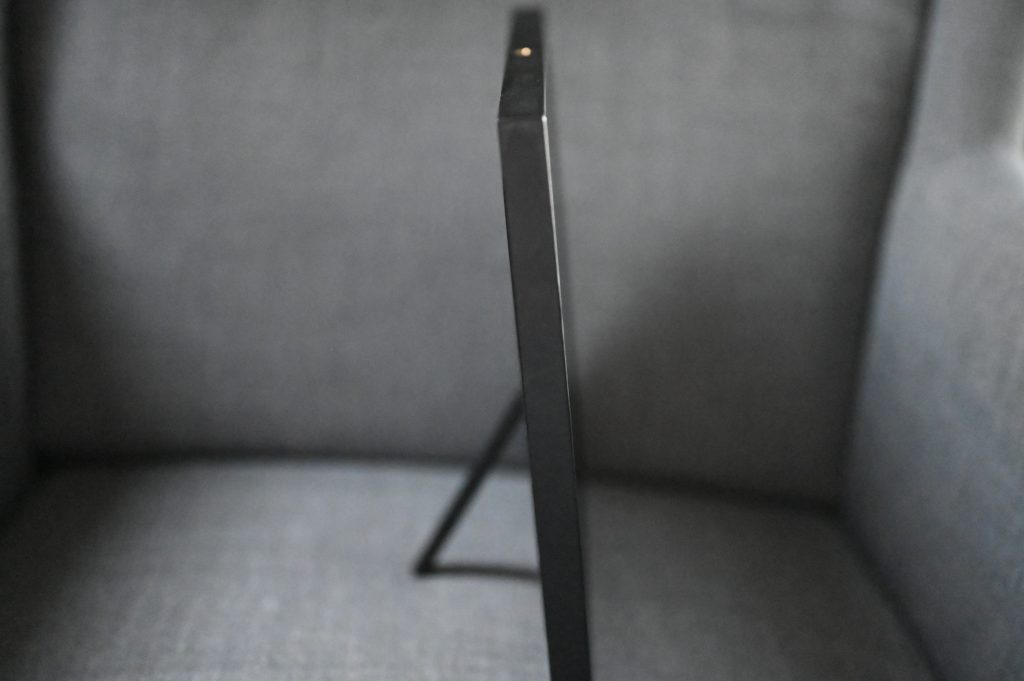 The display of the Pixoo 64 reminds me of those eight-bit games as a kid. It brings back so many memories of playing Mario on the NES into the wee hours of the night.
But the Pixoo 64 is more than just a pixel display; you can display social media stats, financial information, gaming performance, sports scores, and weather. The list goes on and on. The Pixoo 64 has built-in WIFI, automatically fetching the information and displaying it on the screen.
This pixel display also works with Alexia, so you can give it commands of what you want to see on the screen, and the display is super easy to set up.
You can place the Pixoo 64 on a tabletop, hang it on the wall, or hang it from a rope or chain.
You will notice that it shows a lot of finger prints. Whether it's on the plasic base or the screen.
Two other Pixoo products are available (Pixoo Max and Pixoo), but the Pixoo 64 is the only pixel art display from Divoom that can connect to WIFI. Let's look at some numbers:
| Product Detail | |
| --- | --- |
| Specs Dimensions | 262L x 261.4W x 17.8H mm |
| Weight | 740g |
| Color | Full RGB |
| Color Temp | 1600-6500K |
| Output | 10W |
| Microphone | 6050 Full Direction -42+/-3dB |
| Power | via USB cable,5V(+/-0.25V)/2A |
| Connection method | WiFi(Only supports 2.4GHz) |
At the end of the day, this is an entertaining gadget that I thought would look cool in my office. So, I went ahead and purchased it online and waited a few weeks for it to arrive.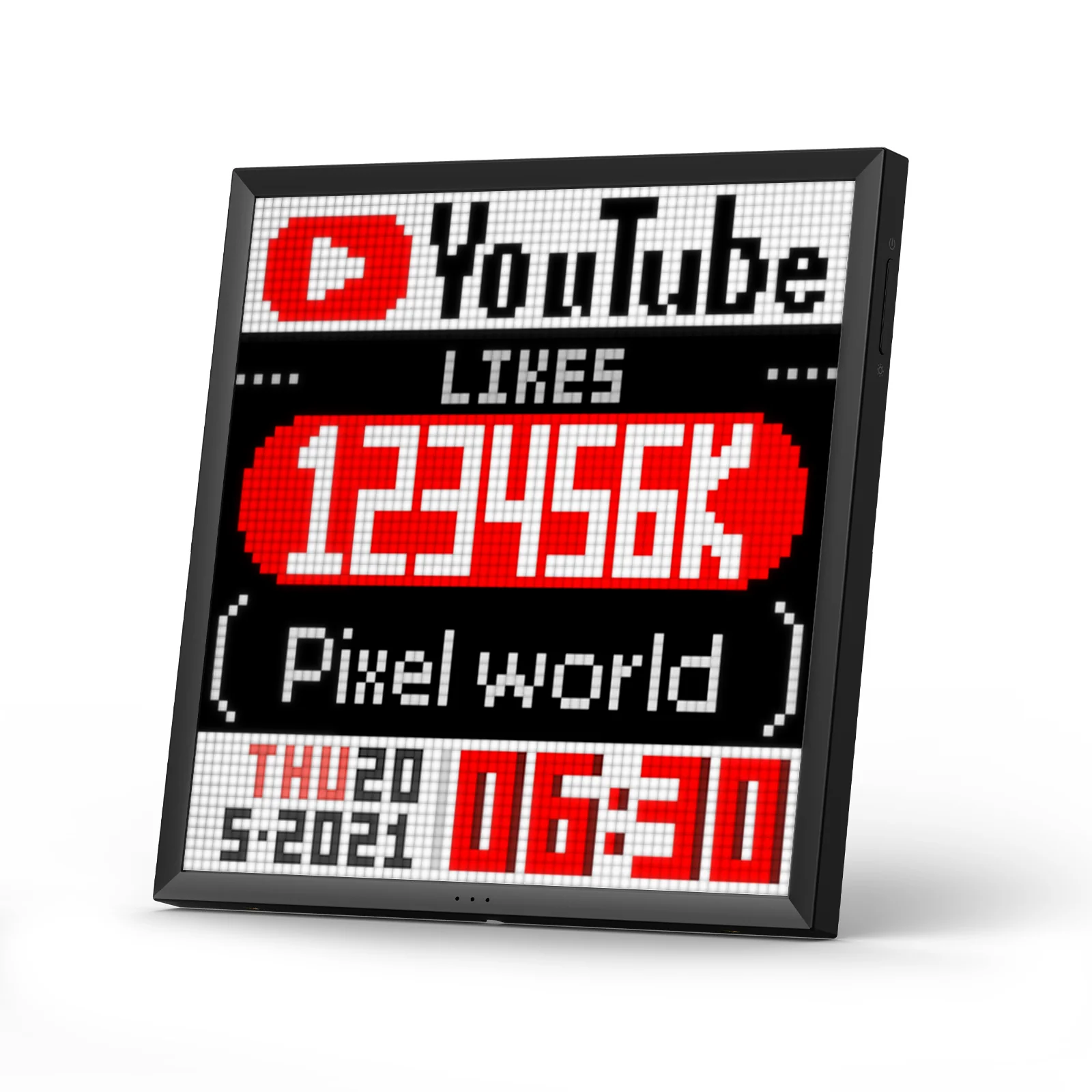 Divoom Pixoo 64
The Divoom Pixoo 64 is a digital frame that's used to display amazing pixel art. You can create your own pixel art using the app, or choose someone else's design in the marketplace. The Pixoo 64 makes a great additional to an office or bedroom. Use the coupon code below to save 10% on your order.
Coupon Code: BTRHOMELIVING
Pros:
A bright display

A large display

Thousands of pixel art
Cons:
App is complicated

Disconnects
View on Divoom.com
View on Amazon
We earn a commission if you make a purchase, at no additional cost to you.
Yes, I know what you're going to say. Isn't $130 expensive for just a pixel display? You're probably correct, but it looks so cool, and I already had all of the designs that I wanted to create in my mind. Plus, it's a decoration that will have people talking.
Let's get into my full review.
My Pixoo 64 Review
Connecting the Pixoo 64 wasn't difficult. You put it into pair mode by holding the top of the button for a few minutes until you hear a beep, and then you'll see a WIFI symbol on the screen that says it's "Waiting to Configure."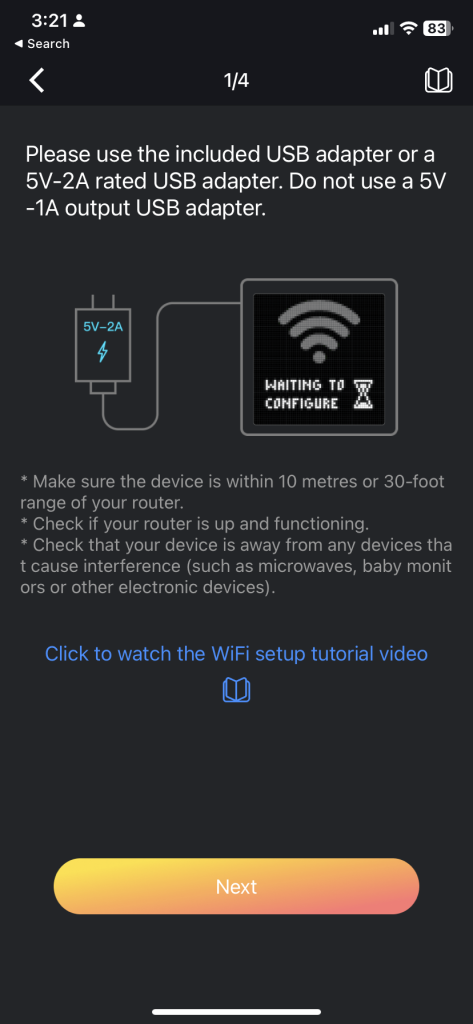 I created a free account on the app and went to the small computer with a plus symbol in the top left-hand corner.
I clicked Add Device and then selected the Pixoo 64.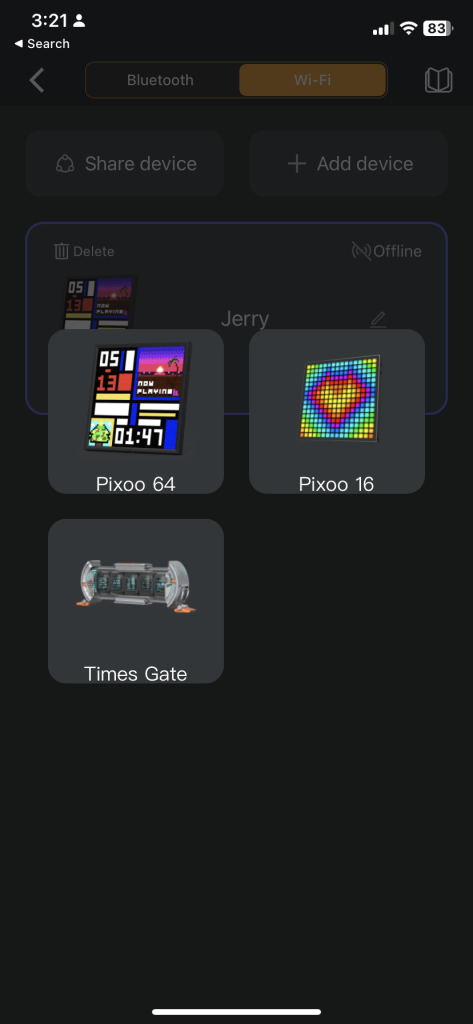 The next screen shows the Pixoo 64 with the plug and instructs you to click next.
It reminds you to ensure you're in pairing mode and that you're seeing the "Waiting to configure" screen on the Pixoo 64 itself.
Now, you add your WIFI information. You can't choose the available WIFI; you must know and add the information manually. When you're done, click next, and it should say – connected!
That's all there is to it. You're now connected to the Pixoo 64 and can start adding your pixel art to the screen.
Adding Pixel Art
This is where the fun starts.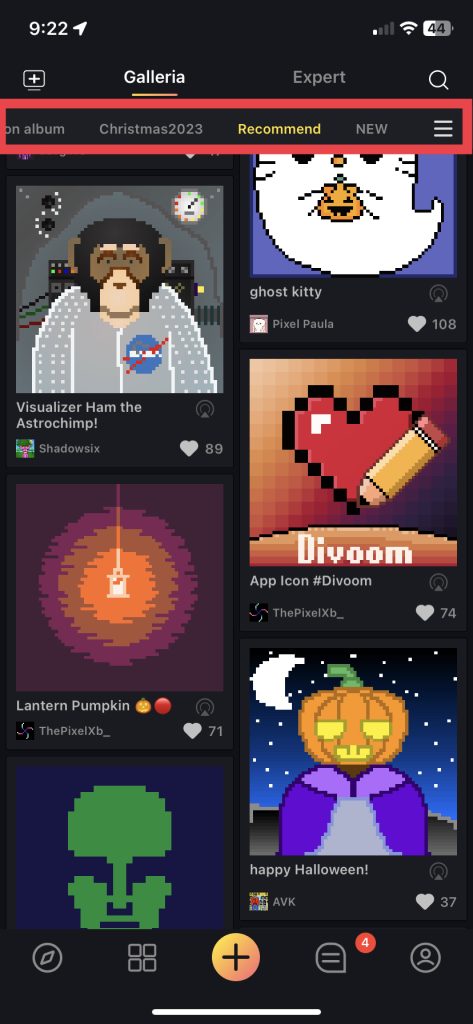 At the top of the app, you have different options.
Follow – It lists all the people and their pixel art you follow.
Creation Album – It breaks down pictures by popular hashtags and topics.
Recommended – Here, you'll find the most popular pixel art creations available then.
New – New shows you all the newest creations.
Character – Shows you the top character creations.
Emoji – This category shows you several emoji designs.
Pattern – You guessed it, it gives you different pattern pixel art.
And so on. These categories can change over time, but it's nice to know that everything is broken up into different categories for organizational purposes.
At the top right, you have a search icon to search for any image you choose. Let's say you want an image of Mario; then, just search for it. Let's test that out.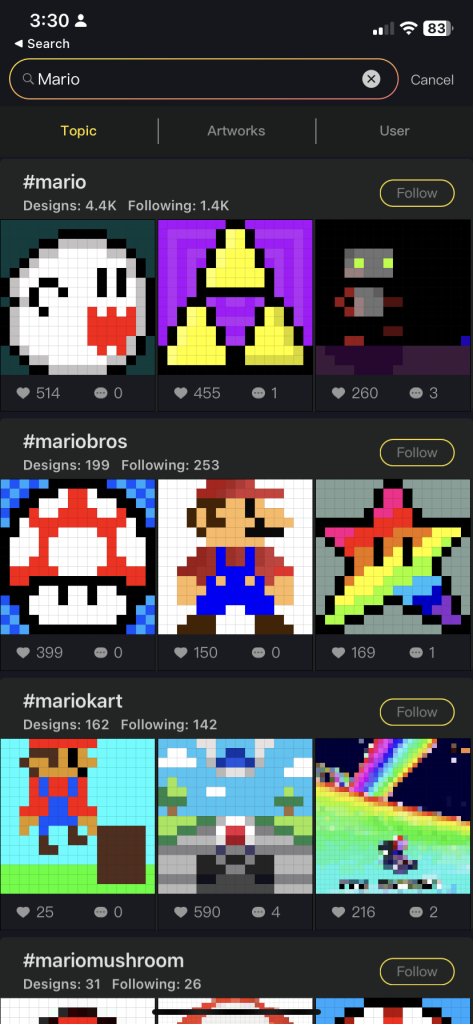 Tons of Mario art.
To add art to your Pixoo 64, click on it. You can swipe up to the next image, which should automatically populate on your Pixoo 64. You'll see "Loading" briefly, and then the image will show up on the screen.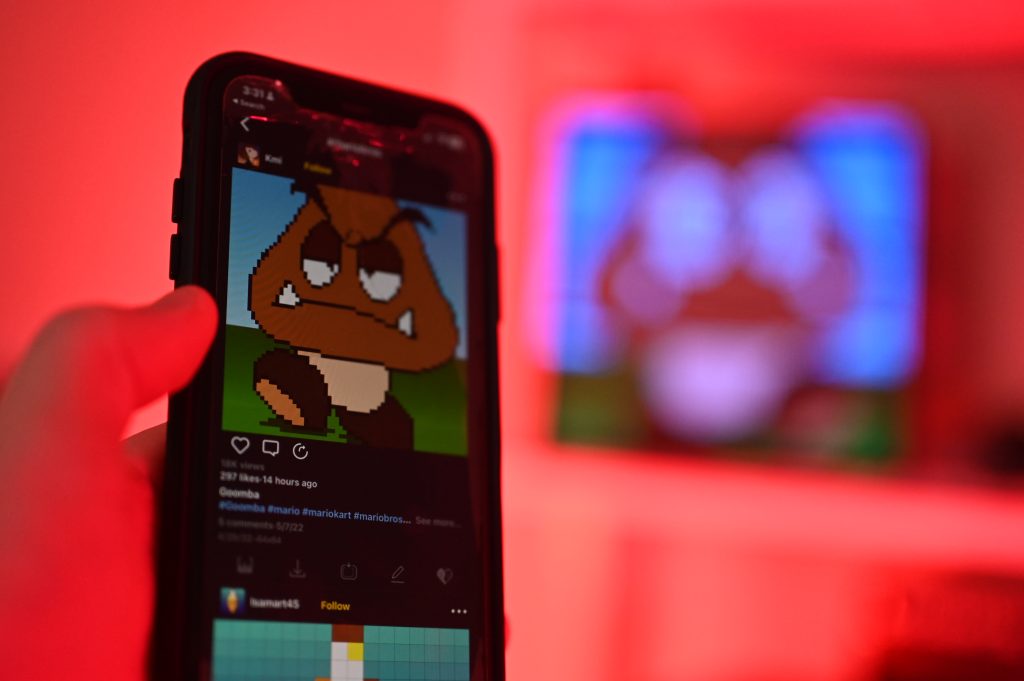 You'll notice three dots in the top right corner of each image. If you click those dots, you'll have several options.
You can edit the image (If the author permits you)
You can save it to your local gallery
You can upload the image to the Pixoo 64
You can share the image
Report the design
And tap and play on or off.
Let me say a couple of things about the tap & play. If you enable it, it means when you're scrolling through the pixel art, it won't change automatically. You must tap the image and send it to the Pixoo 64.
Saving an Image to the Pixoo 64 would go in one of three folders: custom 1, custom 2, and custom 3. These folders can be viewed and edited by going to the second option at the bottom. It's the icon with the four boxes that comprise one box.
If you click on Custom 1, all the images you saved in that folder will display and rotate through the images. You can add more images or delete images from this folder.
Other Cool Displays
The Pixoo 64 is more than just a pixel art display; it can be used for a whole bunch of cool things.
You'll have many different options by clicking on the second icon at the bottom (the one with four squares).
In the top row, you'll find your three custom categories, plus a visualizer and a cloud channel (Which you can choose to display a whole category).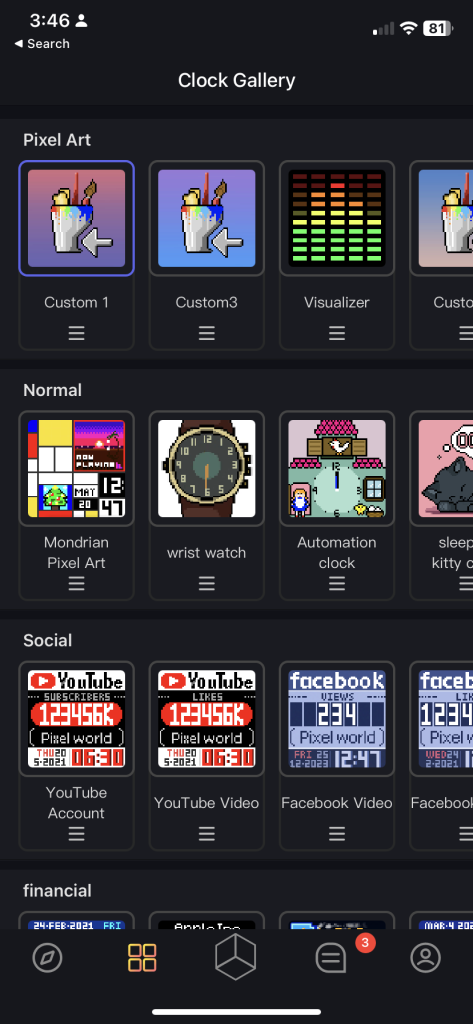 The next second (Which they call normal) gives you more cool displays. I am going to list a few below:
A lemonade clock that shows the time floating around in some lemonade
A Mondrian display that shows the date and time
A wristwatch that shows the time
Automation clock that shows the time as well
A sleeping kitty cat shows a cat sleeping and dreaming of the current time.
A classic digital clock doesn't need much explaining.
There is a devil and fire with the current time and date.
And it goes on and on.
I counted 16 different date and time options to display.
The following section (Social) lets you display your current social media stats. You can show stats on a YouTube channel, YouTube video, Facebook video, Facebook photo, and more.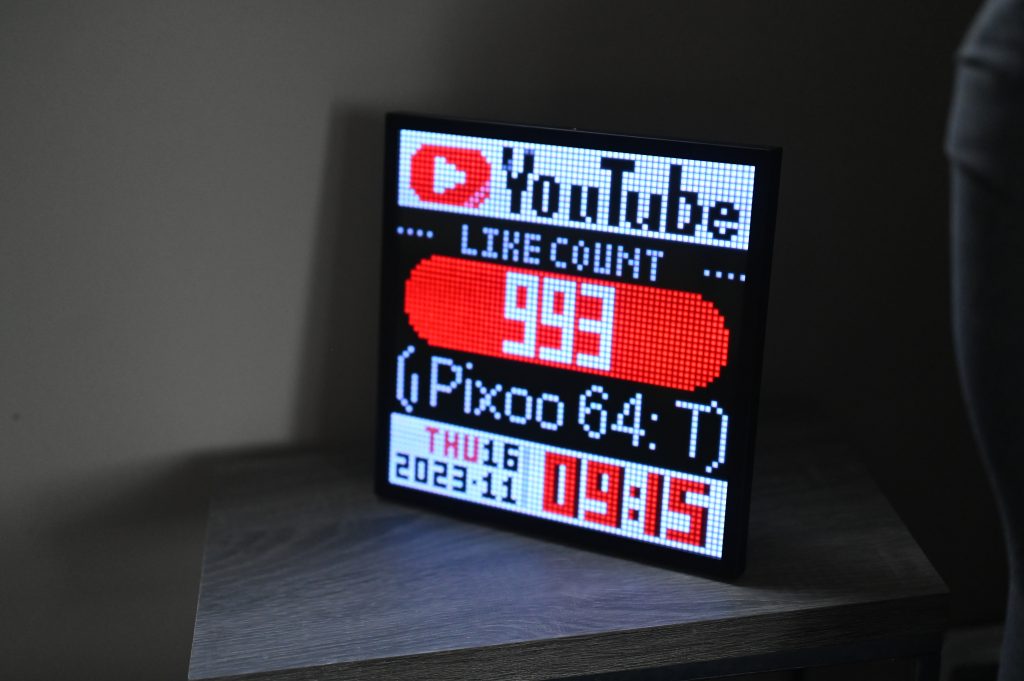 After Social displays, you'll find fiancial displays. This lets you show the exchange rate, stocks, cyber currency, and Bitcoin.
The following section is about the weather, which is pretty straightforward. These displays will show the weather, temperature, and a four-day forecast. You can add your city and change the settings on most of these displays.
Next, you'll find tools, which include Amazon Music, a QR Code, a Pink Message Board, World Clocks, and others.
Sports is the next section, which displays sports scores, and then you find the game section, which displays your stats on a particular game. The games supported are Overwatch, Fortnite, League of Legends, and PUBG.
The second section shows smart hardware, such as connecting to a PC monitor, Fitbit, or the Huawei Health App.
The second last section is your custom displays, and the last section gives you different plan displays that you can customize to meet your needs.
Device Functions
When you look at the row of icons on the bottom of the app, the first button will take you to your account, where you'll find several more functions.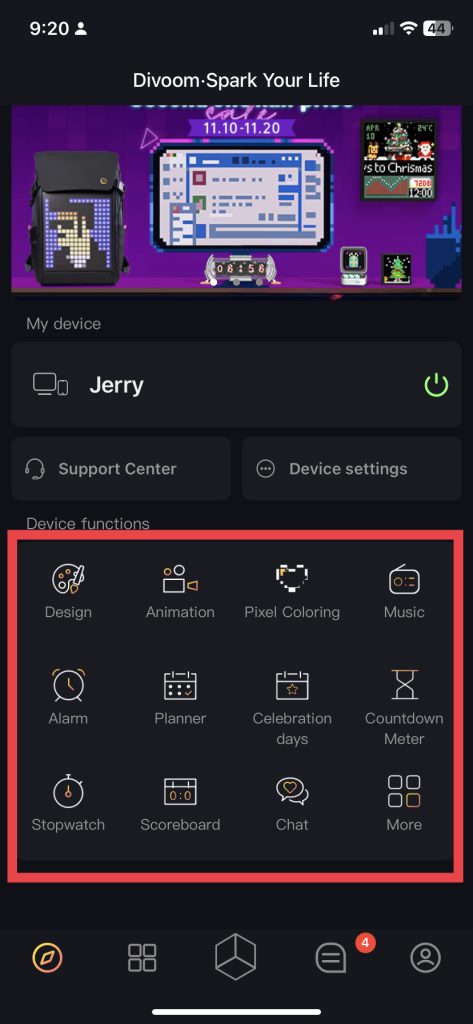 Design: allows you to create your own pixel art. You can do a lot with the design feature. You can create a design one pixel at a time or add an image. You can also use their AI camera and automatically convert an image into pixel art. I didn't get the AI Camera to work well for me. It never really looked like anything.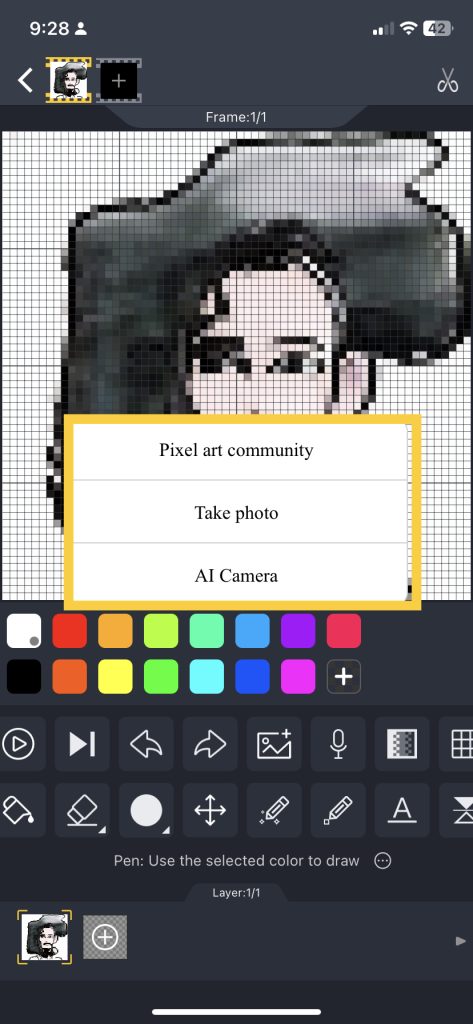 Animation: Create cool animations. You create pixel art and then make multiple frames.
Pixel Coloring: This section allows you to choose pixel art and color it in yourself.
Music: You can play radio stations (the Pixoo 64 doesn't have a speaker, so it would only play on your phone)
Alarm: Set a custom alarm.
Planner: This section allows you to set different images at different times of the day
Celebration Days: In this section you can set up special days and show specific pixel art
Countdown: Create a countdown timer where it count down from a specific time
Stopwatch: This section is like a regular stopwatch.
Scoreboard: In this section, you have a scoreboard that you can easily change the score for each team. This is a lot of fun playing sports in the house. Just don't break anything.
Chat: In this section, you can connect and chat with people through the app
My Experience With the Pixoo 64
I have to be honest; getting used to the app took me a while.
The App has many features but is choppy and hard to figure out. I wish they would make it a little more streamlined, but hopefully, changes will be made in the future.
Once I got connected and got the hang of it. Using the app became seamless, and now I would say that I'm a pro. I change out images pretty fast and even create my own.
The actual pixel screen is excellent. I have it set to dim at a specific time of the night, which is fantastic. I find that the screen is bright and noticeable and pops with color.
I've set up the Pixoo 64 in my office and sometimes will bring it upstairs for everyone to see. I usually bring it up for Christmas and add a Christmas image as a decoration. I think it's quite funny.
I do find that the Pixoo 64 will go offline, and I am forced to reset it. This isn't very pleasant, but it's an easy fix. You unplug the device and then plug it back in.
Overall, when everything works, it's an excellent pixel art display.
Who Should Buy the Pixoo 64?
The Pixoo 64 is a novelty item at best.
If you want to dress up your gaming room or bedroom, the Pixoo 64 would work well for you. It's a gadget that no one needs, but everyone wants. You could use it beside your bed as an alarm clock or night light for your kids.
Using it as a scoreboard when playing sports with your kids is fun, and if you're bored, you can create your own designs.
The Pixoo 64 is for anyone looking for a creative and conversational gadget for their home. If you have $130 lying around and want a gadget to spice up your home or office, the Pixoo 64 is a good fit for you.
Is the Divoom Pixoo 64 Worth it?
It's a great question.
You're probably going to pay over $100 for this pixel display. It's a nice size, has a bright display, and the software gives you a lot of features, but it's still just a pixel display that can only show pixel art.
The worth of this gadget depends on how much you want to show pixel art in your home. It's a nifty gadget to have, but it's definitely not a necessity.
Overall, with the product's technology and quality, I believe it offers value. If you would like to have the ability to show pixel art, then the Pixoo 64 is by far your best choice.
Conclusion
The Pixoo 64 is a high-quality pixel display for any occasion. I love the large size that can't be missed by those visiting your home.
The sky is the limit for displaying pixel art on this device. Their marketplace has thousands of images. Plus, you can create your own.
It's a fun gift your kids will love if they can find a time when you're not using it.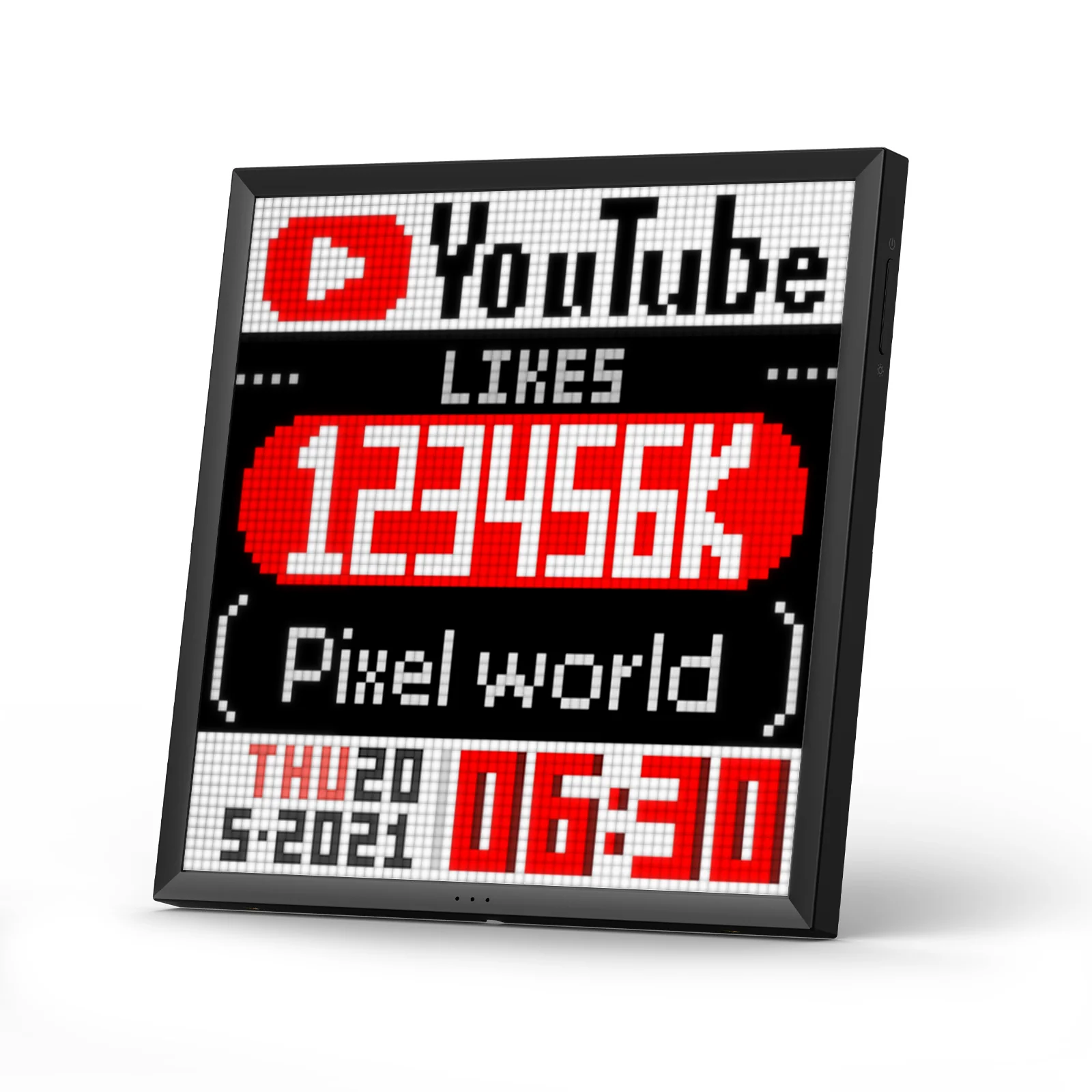 Divoom Pixoo 64
The Divoom Pixoo 64 is a digital frame that's used to display amazing pixel art. You can create your own pixel art using the app, or choose someone else's design in the marketplace. The Pixoo 64 makes a great additional to an office or bedroom. Use the coupon code below to save 10% on your order.
Coupon Code: BTRHOMELIVING
Pros:
A bright display

A large display

Thousands of pixel art
Cons:
App is complicated

Disconnects
View on Divoom.com
View on Amazon
We earn a commission if you make a purchase, at no additional cost to you.
Advertisement
Millions of men and women are enjoying a faster metabolism, increased energy and healthier, happier lives . . . Learn How You Can Join Them