The products and services mentioned below were selected independent of sales and advertising. However, Better Home + Living may receive a small commission from the purchase of any products or services through an affiliate link to the retailer's website.
Mini fridges are an excellent investment for your home or office. They are compact enough to stay out of your way, but useful enough that they're definitely worth the investment.
If you are looking to purchase a mini-refrigerator, then you're probably wondering how long do mini-fridges last? That's a valid question and one that is difficult to answer.
All mini-fridges are not created equal. They differ in design, quality, and even size. It's hard to put them all in one box and determine how long one unit will last compare to another one.
How Long Do Mini Fridges Last?
The simple answer to that question would be that mini-fridges or a bar fridge will last anywhere between 6-14 years. If you are looking to purchase a mini-fridge, a good rule would be not to buy something too cheap, and you probably don't have to get the most expensive fridge either. I try to aim for the middle with most purchases that I make.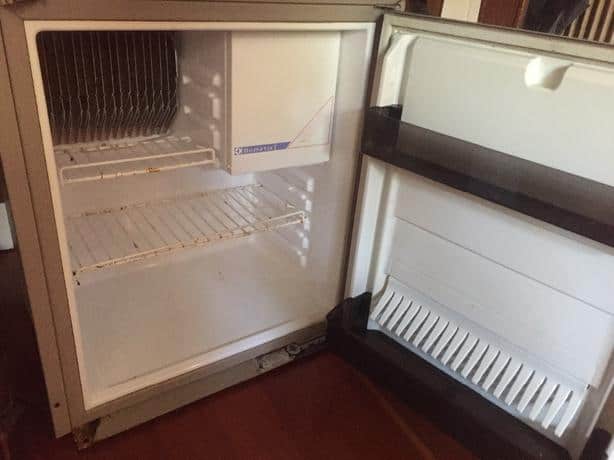 It's also good to make sure that the fridge has a 1-2 year standard warranty, which, if the refrigerator is a dud, it won't make it past that time.
Extended warranties aren't something that I have ever purchased with a mini-fridge, just because it isn't too expensive to buy if you had to replace it.
If you have a fridge that's past ten years old, it's probably an excellent idea to purchase a new one for four reasons:
More modern technology will save you money on your energy bill
Your old fridge is perhaps rusty, filthy and needs to be replaced
Older refrigerators can be leaking at the bottom of the fridge, where no one sees it.
Mini fridges have gotten smaller and more compact over the years.
Even though a fridge is still running doesn't mean it's worth keeping around. Older refrigerators can be the cause of more problems than what it's worth.
According to CA Compact Appliance, you may need a new fridge if you notice the following signs:
Excessive Condensation
The Motor's Running Hot
Your Food Is Rapidly Spoiling
Your Freezer Has Become a Winter Wonderland
Your Fridge Is More Than 10 Years Old
You Have a Side-by-Side Fridge (They are ancient)
Your Fridge Isn't Energy Efficient
You Notice a Good Deal on a Fridge
You Can Hear Your Fridge Running
I recently purchased the Midea WHD-113FB1 Double Door Mini Fridge with Freezer for our coffee bar downstairs, and I absolutely love it. This is an excellent mini fridge for your office, bedroom, or basement.
It's a 3.1 cubic feet fridge, with an interior light, separate fruit and vegetable drawer, and a freezer section. I found that the price for this mini-fridge was terrific, and it comes with a full one-year warranty. If you want to learn more about this great mini-fridge, click here and head over to Amazon for more information.
How Can You Help Mini Fridges Last Longer?
We all want our appliances to last a long time, and with a min fridge, there is no exception. We want to make sure that we get our money's worth and that it doesn't give us any hassle along the way.
If you want to squeeze every last drop of life from your mini fridge, then I would suggest that you perform regular maintenance.
Here are some helpful hints on how you can prolong the life of your mini-fridge:
Make sure that your fridge is level. It's simple, I know, but it's crucial. A refrigerator that isn't level may not close properly, resulting in your motor working harder, and letting condensation to enter the fridge.
Don't place your mini-fridge in direct sunlight and make sure that it's away from heat-producing appliances.
Don't place your mini-fridge up too close to the wall. It's a good rule to keep it 2-3 inches from being up against the wall.
Clean door seals with soapy water, which will prevent the gaskets from drying out and cracking.
Empty the drip pan at least three times a year.
Keep an eye on the internal temperature of your fridge to make sure that it's maintaining the correct temperature (The ideal temperature for a mini-fridge is 37 and 40 degrees Fahrenheit).
Take time and completely clean out the mini-fridge at least once a year and wash down all the walls. Make sure that mold isn't growing inside the fridge, and that nothing has spilled that could spoil.
Take some time each year, pull out your fridge, and clean the coils. When the coils on your refrigerator become caked with dust and grime, your fridge isn't going to work correctly. Use your vacuum's brush attachment to clean under and around your mini fridge.
If you follow these simple steps, then you're going to increase the life of your fridge. Most people start maintenance on their fridge when it's too late.
Conclusion
Thanks for taking the time to read my post today. If you have any questions or comments, you can use the comment section below.
Remember, mini-fridges last between 6-14 years, but probably should be replaced at the 10 year mark. Make sure that you clean and care for your fridge to ensure that you get the best investment.