The products and services mentioned below were selected independent of sales and advertising. However, Better Home + Living may receive a small commission from the purchase of any products or services through an affiliate link to the retailer's website.
Sometimes you can't have everything that you want in one simple product.
Most of the time, you have to purchase different units, which take up more room than you're willing to give up.
If you have a smaller kitchen or don't want your countertop filled with unnecessary appliances, then a combo unit is the best fit for you.
A great way to have room for a countertop ice maker and a water dispenser is by bringing these two necessary appliances together into one super unit – the 2 in 1 ice maker and water dispenser is a great idea, and works for most homes and businesses.

If you're in the market for one of these duo's then there is something important you'll need to understand first.
These units come in both residential and commercial strength.
If you're looking for a water and ice dispenser for your office, a healthcare facility, a business lunchroom or even a cafe, cafeteria or any other food establishment, then you're probably want to purchase a commercial unit. These ice makers produce more ice each day, and will need to be professional installed.
Now, you don't have to have a business to purchase a commercial ice maker with a water dispenser, but it may be a little too much ice for residential use. In the end, the choice is up to you.
We have added both residential and commercial units to our list of best ice makers with a water dispenser. We have also added links to the best prices online. These links will send you over to either Appliances Connection or Amazon for making your purchase. Both of these retailers are trusted and supported by Ice Maker Geeks.
Alright, let's find you an ice maker and water dispenser for your home or business.
You may not be able to eat your cake and have it too, but you can certainly have your water and ice in one place.
An Overview of the Top 10 Ice Makers With a Water Dispenser
Below is a quick glance of the top ten ice makers with water dispensers for both commercial and residential use.
Costway 2-in-1 Water Cooler Dispenser with Built-in Ice Maker
This water dispenser will look elegant in your home or office. It is a high-end water dispenser, powerful ice maker with a list of great features.
It's a multi-function water dispenser that gives you refreshing water and filtered ice together in an economical appliance. The unit comes in a silver color, and is 12'' (L) x 14'' (W) x 39'' (H).
At first glance, this unit looks like it not only has an ice maker and water dispenser, but also a fridge. There is no fridge in this unit.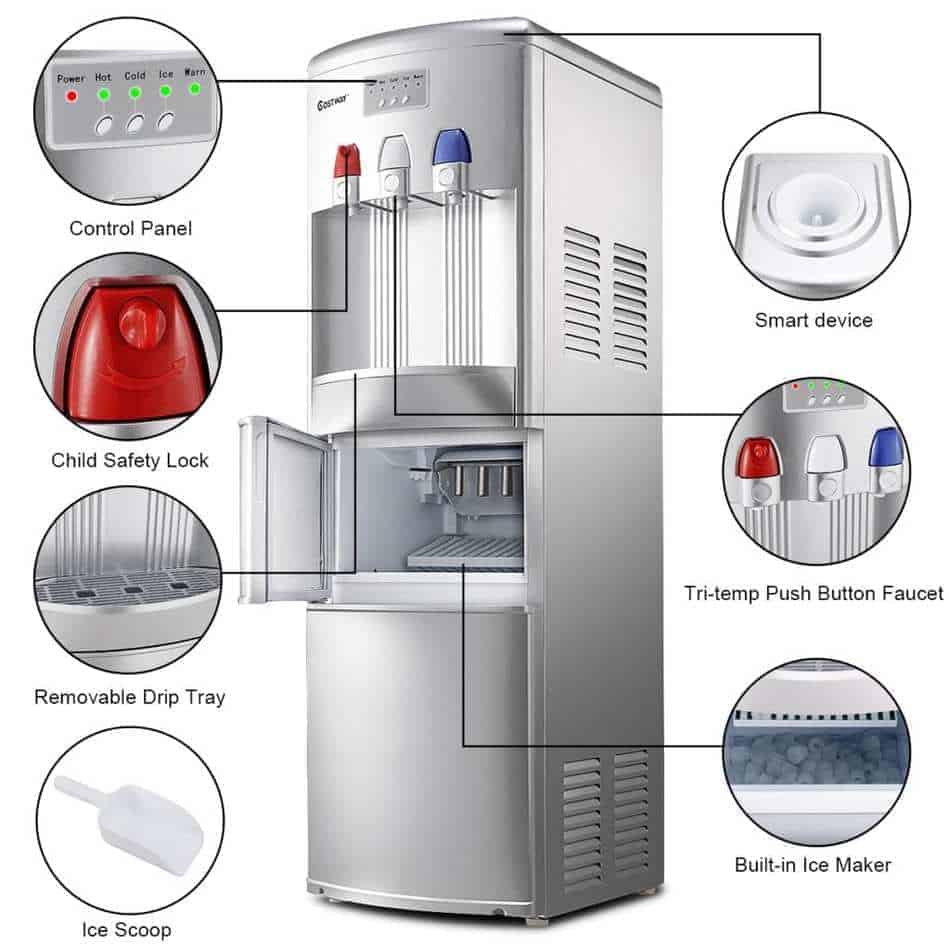 The water cooler allows you to dispense cold, hot or room temperature water. It's equipped with a user-friendly control panel which makes it easy to start making ice or controlling other features on the unit.
Weighs 40 lbs
12'' (L) x 14'' (W) x 39'' (H)
Produces 27 lbs of ice every 24 hours
Makes Ice Every 6-12 Minutes
Removal Drip Tray
Sexy Silver color
Child-Lock
LED indicator Lights
High Ratings and High Customer Approval
It also has a LED indicator which tells you if the unit is making ice, heating water or if it's on or off.
The ice maker will produce 27 lbs of ice a day. It's an industry standard for most portable ice makers. It makes nine bullet-shaped ice cubes at one time, and the ice cycle is about 6-14 minutes (6 minutes after the first batch of ice).
Below the water dispenser spouts, there is a drip tray that's easy to remove and to clean. The machine has a child-lock, so it's safe around children.
The ratings are high for this unit; many reviews suggest that the unit works very well, and is worth the investment.
One comment said that the unit was a bit noisy, but its loudness is comparable to almost all water coolers and portable ice makers. Most reviews are very positive with one individual saying that the machine will pay for itself.
The price is reasonable as well, seeing you are getting a portable ice maker and a water cooler together.
We recommend this product, and made it our top pick for a residential ice maker and water dispenser together.
Click here to see the best price we could find online.
KUPPET 2 in 1 Ice Maker With Water Dispenser
The Kuppet 2 in 1 ice maker with water dispenser is a compact, portable unit perfect for your home or office. It says commercial in the title, but it's definitely far from a commercial unit. If you are looking for a commercial ice maker, then take a look at our comprehensive buyer's guide so you can choose the best commercial ice maker on the market today.
Stainless-Steel Design
Compact
Hold 3 or 5 Gallon Bottles
Produces 33 Pounds of Ice in 24 Hours
Hidden Water Spout for Simple Use
The unit has a stainless steel design and holds a 3 or 5-gallon bottle. This unit is straightforward to operate. The machine vents from the rear of the unit, and has a conveniently placed water spout for filling up your water bottle or glass.
One good thing about this unit is that it's very portable. When they created this unit, they wanted an ice maker and water dispenser that could be mobile. They accomplished their goal with this unit.
The ice maker produces 33 pounds of ice every day and would be perfect for camping or bringing with you on your RV.
This is a newer product, so it's hard to know what people think about it. The attractive feature about his ice maker and water cooler combo is that it's compact and easy to transport.
There are several ice makers with built-in water dispensers that are very similar to this product.
The Della Freestanding 2 in1 Water Dispenser w/Built-In Ice Maker looks the same with a couple of differences.
Both units are compact, but the Della Freestanding 2in1 produces 40 lbs of ice in 24 hours compared to the 33 lbs by the Kuppet 2 in 1 (This could be just a typo and both units produce 40 or 33 lbs of ice each day).
The Della makes three bullet ice cubes every 6 mins, and both units are easy to operate.
The Chard IM-15SS is an ice maker that looks the same as the other two I just listed. This ice maker also makes 40 lbs of ice every day, and produces its first batch of ice in 6 minutes.
The ice bucket for all three of these compact units will hold three and half of ice at one time, all of them also have a pull-out water spout for filling up your glass with pure, clean water.
In my research, it seems that companies are taking the generic design of the Chard IM-15SS, Della Freestanding 2in1 Water Dispenser and Kuppet 2 in 1 Ice Maker and Water Cooler and just sticking their own names on the same product.
This means that all of these products (and many more: Ensue Ice Cube Maker and Water Cooler) are the same product and have the same quality and features.
You can click here, and check out the price and more information on Amazon.
Manitowoc CNF-0202A Ice Maker and Water Dispenser
This Manitowoc ice maker offers you a powerful commercial ice maker with the ability to produce 315 lbs of ice each day.
This unit makes soft, chewable nugget ice that's perfect for a break-room, nursing home, hospital or office. The dispenser gives you three options. You can dispense with only ice, only water or with ice and water.
This ice maker is designed to fit in small places, and is perfect on a countertop. It has its drain and water connection at the back for flush mounting. It comes with a large drip tray that minimizes messes and ice spills.
The Manitowoc CNF-0202A offers a LED blue light that lights the dispenser so that it's easy to find in low light. It comes with great cleaning technology to ensure that your ice maker is always producing clean ice.
You can set this ice maker up to dispense the ice in two ways: touchless (which is pretty cool), or by using the activation arm.
This commercial ice maker is built with high-quality stainless steel that's easy to clean and maintain.
Again, this is a perfect ice maker for a nursing home or hospital setting.
The soft chewable ice is a great for minimizes chocking hazards, and is used a lot in medical facilities. In fact, nugget ice is often called "hospital ice" because it's often used in medical offices.
This ice maker isn't one that you would purchase for your home, but we wanted to add it here because it is a great option for those looking for an ice maker with a water dispenser in commercial purposes.
For more information on this ice maker click here and head over to Amazon to see the best price and more specifications.
MY TOP PICK!
My top pick for a water cooler, ice maker combo for your home is the Costway 2-in-1 Water Cooler Dispenser. This is a great unit because of its features, price and quality.
If you are looking to purchase a water cooler that sits on the floor, is built-well, has a great design, then I would suggest you consider the Costway 2-in-1. As far as ice makers with built-in water coolers for your home, this unit is your best choice.
If you're looking for a cheaper unit that's compact and sits on your countertop, than any of the units listed in this review will fit your needs.
For those looking for a premium unit then I would strongly suggest the Manitowoc ice maker above. This unit is top-rated, and is perfect for healthcare and office facilities. It comes with a 2-year warranty, and is packed with great features. I also listed above the best prices on Amazon so that you can get the best deal online.
Thanks for taking the time and reading this review. If you have a question or want to add some further information about these units, you can add them in the comments section below.