The products and services mentioned below were selected independent of sales and advertising. However, Better Home + Living may receive a small commission from the purchase of any products or services through an affiliate link to the retailer's website.
This post is an honest review of the BEAMNOVA commercial ice maker.
My review will help you make an informed decision before making this purchase for your home or business.
Reasons to Buy the Beamnova Commercial Ice Maker
The BEAMNOVA commercial ice maker isn't anything special. It has a simple design, produces clear ice, and is made in China. It's a similar commercial ice maker to VEVOR, Costway, Euhomy, and Joy Pebble.
If you're looking for a cheap commercial ice maker, then Beamnova is a good choice. This ice maker is perfect for any occasion where a portable ice maker just won't do. Whether that's a business, community center, hotel, bar, restaurant, grocery store, or church – the BEAMNOVA commercial ice maker will do the job.
Advertisement
Learn What Scientists Discovered is Always Present in the Mouth of People with Healthy Teeth and Gums / Learn More Here
It's also ETL, CSA, and UL-approved for commercial use.
The Design of This Commerical Ice Maker
The stainless steel finish makes this ice maker stand out.
The BEAMNOVA Commercial ice maker can be a freestanding or built-in ice maker with venting in the front. For installation purposes, note that the overall dimension of this unit is 17-3/4″(W) x 15-3/4″(D) x 31-1/4″(H).
The Performance of This Commerical Ice Maker
This ice maker is compact, but that doesn't mean it doesn't produce a lot of ice.
This ice maker is faster, more efficient, and quieter than other commercial ice maker brands, making it a great choice for your home or business.
This commercial ice maker isn't going to be perfect for every business. This ice maker will produce 100 lbs of cubed ice a day. That's a lot of ice for home use, but it may not be enough ice for a medium-sized business. I love that the Beamnova produced the ice fast, so it was ready to serve and use.
It creates cubed ice every 12-15 minutes and produces 45 ice cubes simultaneously. Every 4-5 hours, this ice maker will make you about 20 lbs of ice.
Again, this may not be enough ice to satisfy your ice-craving customers.
| Place | Estimated Ice per Customer (pounds) | Usage |
| --- | --- | --- |
| Restaurants and Cafes | 0.5 – 1 | Drinks, food preservation, and presentation. |
| Bars and Nightclubs | 1 – 2 | Drinks, cocktail preparation, and bottle cooling. |
| Hotels (per guest) | 2 – 4 | Guest room ice machines, restaurants, bars, and events. |
| Hospitals (per patient) | 3 – 5 | Patient care, therapy, food service, and laboratory needs. |
| Fish Markets and Seafood Restaurants | 2 – 4 | Keeping seafood fresh and on display. |
| Grocery Stores (per shopper buying ice) | 2 – 3 | Bagged ice sales and seafood preservation. |
| Sporting Events and Arenas | 0.5 – 1 | Drinks, first aid, and athlete therapy. |
| Spas and Rehabilitation Centers | 2 – 3 | Cold therapies and treatments. |
| Airlines (per passenger) | 0.5 – 1 | In-flight beverages and catering. |
| Catering Services (per attendee) | 1 – 2 | Food and drink cooling and presentation. |
| Ice Cream Parlors | 0.2 – 0.5 | Making certain types of ice creams and desserts. |
These numbers are estimates.
For smaller occasions, this ice maker is going to work for you. Its speed makes sure that you will always have ice available for friends, customers, and family.
This Ice Maker's Operation
The BEAMNOVA has an extensive list of great functions.
This ice maker has a low water level indicator a full ice bucket indicator light, and automatically switches between making ice and ice preservation mode.
This ice maker has two options for water intake. It has a water reservoir or a direct line. Having a water reservoir makes it more portable and can be placed anywhere in your home or business.
Everything you need to begin making ice comes with the ice maker to use both systems. The ice maker's water reservoir will automatically add more water when running low. Also note this ice maker requires a drain to remove excess water from melting ice.
This machine doesn't drain much water, but it's still needed. Another great feature of the BEAMNOVA ice maker is that it allows you to change the ice thickness and adjust the ice cycle time.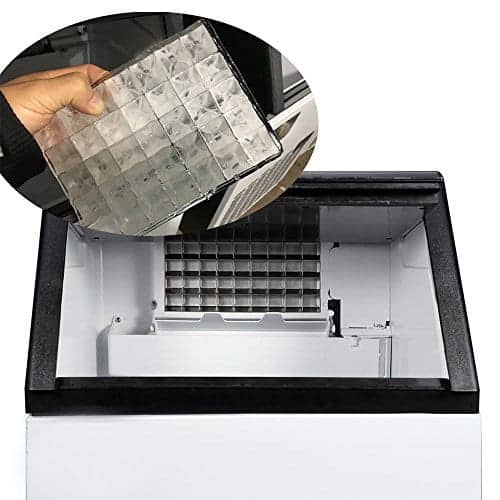 There is no doubt that this ice maker is packed with great features.
What You Get With This Commerical Ice Maker
The great thing about this ice maker is that it's easy to set up.
If you get it in the morning, you can start making ice in the evening or sooner – a simple setup is essential. When you purchase a BEAMNOVA commercial ice maker, you'll get a free-standing ice maker, a drain hose, a user manual, and an ice scoop.
There is nothing special about the ice scoop that comes with this unit. It's a small plastic one that will do the job. I purchased a stainless steel scoop on Amazon for an upgrade (Click here to check out the one I bought on Amazon).
BEAMNOVA Company Information
BEAMNOVA has been making ice machines for a while; it's a reliable company that strives for excellence.
Established in 2015, they specialized in LED lights (where they got their name) and now sell a wide range of products.
BEAMNOVA works hard to keep their customers happy with their purchase. As I researched this business for this review, I found hundreds of satisfied customers with their BEAMNOVA purchases.
One thing to note with BEAMNOVA is that it's not a manufacturing company. They purchase products and then put their brand on them. This can be a problem when looking for parts or repairing the unit. They really don't know much about ice makers, so you'll have to bear with them.
As of 2023, I can't even find any BEAMNOVA commercial ice makers for sale. At least, it's hard to find them. You may have to check out another company similar to BEAMNOVA called VEVOR.
The Cons of the BEAMNOVA Commerical Ice Maker
My BEAMNOVA ice maker isn't perfect. I found that the instructions were tough to follow. It may take some time to figure out everything about this ice maker, but you'll catch on. It's more of a learn by experience with the BEAMNOVA commercial ice makers.
I also noticed that the ice maker's size caught most people off guard. The machine is smaller (for a commercial unit) than most people think. Remember that this machine is compact, but it is a workhorse. The dimensions for this ice machine is 3/4″(W) x 15-3/4″(D) x 31-1/4″(H). Again, it's small, but at the same time, it makes 100 lbs of ice a day.
Also, people complained about parts. If this commercial ice maker breaks, you will not find any parts for it at all. Unfortunately, that is the way it is. I guess that's the price you pay for buying a cheaper commercial ice maker. It's almost like a portable ice maker; these units are not designed to be repaired.
Conclusion
The BEAMNOVA commercial ice maker is a cheap commercial ice maker that produces 100 pounds of clear ice daily. It's made in China, and the parts for this unit don't exist. I couldn't even find any units available online. I am not sure if BEAMNOVA even sells commercial ice makers anymore.
I also own a VEVOR commercial ice maker, and it's a similar product.
It's a good choice for a business that produces a decent amount of ice.
It's well-built with some cool features and sells for a fantastic price.
The Vevor commercial ice maker is comparable to BEAMNOVA. It would seem that BEAMNOVA no longer sells a commercial ice maker.
If you're looking for a CHEAP commercial ice maker for home or business use that comes in various sizes and produces ice in different quantities. I would check out VEVOR today.
The great thing about VEVOR is that you can purchase them on AMAZON or their own website for great deals and discounts.
Advertisement
Millions of men and women are enjoying a faster metabolism, increased energy and healthier, happier lives . . . Learn How You Can Join Them