The products and services mentioned below were selected independent of sales and advertising. However, Better Home + Living may receive a small commission from the purchase of any products or services through an affiliate link to the retailer's website.
This post is an honest review of the BEAMNOVA commercial ice maker. This review will help you make an informed decision before making this purchase for your business.
WHY THE BEAMNOVA ICE MAKER IS RIGHT FOR YOUR BUSINESS
The BEAMNOVA commercial ice maker is a beast of an ice maker. You will not be disappointed with this unit. Backed by the Beamnova name, this ice maker is perfect for any occasion where you need a lot of ice. Whether that's a business, community center, hotel, bar, restaurant, grocery store, or church – the BEAMNOVA commercial ice maker is built to last and perform.
Please note that this ice maker is ETL, CSA and UL approved for commercial use.
IT'S FANCY
The stainless steel finish makes this ice maker stand out. The BEAMNOVA Commercial ice maker can be used as a freestanding ice maker or a built-in.For installation purposes, note that the overall dimension of this unit is 17-3/4″(W) x 15-3/4″(D) x 31-1/4″(H).

IT'S FAST
This ice maker is compact, but that doesn't mean that it doesn't produce a lot of ice. This ice maker is fast, efficient and quiet than other brands, that is why it's the best choice for your home or business. This ice maker will produce 100 lbs a day. That's a lot of ice, and the great thing about this ice maker is that it makes the ice quickly. It creates ice every 12-15 minutes and produces 45 ice cubes at one time. In every 4-5 hours, this ice maker will make you about 20 lbs of ice. Whatever the occasion, this ice maker is going to work for you. Its speed makes sure that you will always have ice available.
IT'S FUNCTIONAL
The BEAMNOVA has an extensive list of great functions.This ice maker has a low water level indicator, a full ice bucket indicator light and automatically switch between making ice and ice preservation mode. This ice maker has two options for water intake. It has a water reservoir or a direct line. Everything comes with the ice maker to use both systems. When the ice maker's water reservoir runs low, it will automatically add more water. Also note, this ice maker requires a drain to get rid of excess water from melting ice. This machine doesn't drain a lot of water, but it's still needed. Another great feature with the BEAMNOVA ice maker is that it allows you to change the ice thickness and adjust the ice cycle time.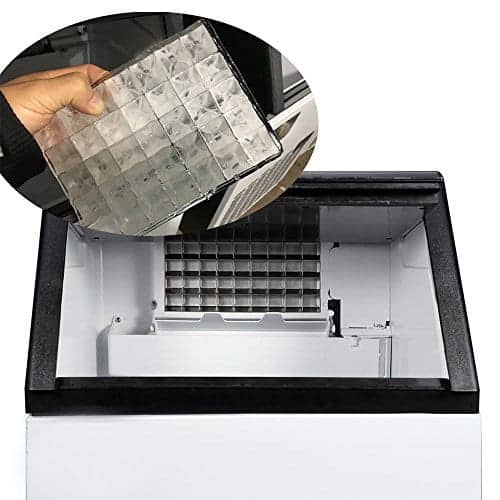 There is no doubt that this ice maker is packed with great features.
WHAT YOU GET WITH YOUR ICE MAKER
The great thing about this ice maker is that it's easy to set up. If you get it in the morning, you can start making ice in the evening or sooner – simple setup is important. When you purchase a BEAMNOVA commercial  ice maker, you're going to get the free-standing ice maker, a drain hose, a user manual, and an ice scoop.
There is nothing special about the ice scoop that comes with this unit. It's a small plastic one that will do the job. I ended up purchasing a stainless steel scoop on Amazon (Click here to check out the one I bought on Amazon).
A NAME YOU CAN TRUST
BEAMNOVA has been making ice machines for a while; it's a reliable company that strive for excellence. Established in 2015, they specialized in LED lights (where they got their name), and now sell a wide-range of products. BEAMNOVA works hard to keep their customers happy with their purchase. As I researched this business for this review, I found hundreds of satisfied customers with their BEAMNOVA purchase. If there was a problem with the product that they bought, BEAMNOVA did their very best to make it right.
WHAT I DIDN'T LIKE
My BEAMNOVA ice maker isn't perfect in every way. I found that the instructions were a little hard to follow. It may take some time to figure out everything about this ice maker, but you'll catch on in time.
I also notice that most people were caught off guard by the ice makers size. The machine is smaller (for a commercial unit) than most people think. Remember that this machine is compact, but it is a workhorse. The dimensions for this ice machine is 3/4″(W) x 15-3/4″(D) x 31-1/4″(H). Again, it's small, but at the same time, it makes 100 lbs of ice a day.
CONCLUSION
The BEAMNOVA commercial ice maker is a product that will do the job that you need it to do. It's the best choice for a business that requires a moderate about ice.It's well built and at a fantastic price. When it comes to the features of the BEAMNOVA commercial ice maker and all that it offers – the price cannot be beat.
I'm confident that you are going to love your new ice maker, and I'm just as confident that if you don't, BEAMNOVA will make it right.
More Efficient: VEVOR ice maker provides you: ① [Faster] Brand and powerful compressor for rapid ice making, one cycle in just 8-15 minutes, and up to 120-130lbs of ice in 24 hours. ② [Harder] Equipped with a premium water filter, more crystal clear and harder Ice cubes crank out at the standard size of 0.9"*0.9"*0.9", cloudless and chew-able. ③[Better]The six-sided cyclopentane foam layer effectively isolates external heat and provides better insulation, which prevents ice cubes from melting.