The products and services mentioned below were selected independent of sales and advertising. However, Better Home + Living may receive a small commission from the purchase of any products or services through an affiliate link to the retailer's website.
No outdoor kitchen or patio is complete without an outdoor fridge. It's just one of those things that have to be – like peanut butter and jelly. Recently I was given a NewAir 15″ Outdoor Beverage Fridge to review for my readers. I had high expectations for this slim design outdoor fridge, and I'm happy to tell you that it did not disappoint.
If you're like me, you really like your backyard. It's your oasis, your gateway, and having an outdoor fridge is going to bring your backyard to a new level. That's why you're reading this article; you want to know if the NewAir 15″ Outdoor fridge is going to work in your backyard.
This fridge is so slim in its design that I'm confident it's going to fit almost anywhere on your patio or deck. It comes with a beautiful stainless steel door, large wheels for moving it around, or adjustable legs for keeping it level, no matter how slanted your patio or deck may be.
I'm not going to bore you with all of the specifications, but I will highlight some of the specs you can find on their website.
Advertisement
Learn What Scientists Discovered is Always Present in the Mouth of People with Healthy Teeth and Gums / Learn More Here
The NewAir 15″ Outdoor Beverage Fridge
Use the coupon code BETTER10 to save 10%.

I really liked this fridge. It's high-quality and looks fantastic! I used this fridge for over two months before reviewing it and can confidently say that it's one of the most affordable, quality outdoor fridges on the market today.
Maintains temperatures as low as 32°F even in scorching climates, unlike normal outdoor fridges
Rust and corrosion-resistant 304 stainless steel is built for all weather conditions.
This fridge can hold 90 beverage cans.
Auto-closing door with lock keeps your contents cold and safe
Adjustable shelves let you customize storage space to fit cans and bottles
Easy-glide casters allow you to bring the party with you wherever you go
It's a well-built outdoor fridge that's ready for whatever you throw at it. But how good is it really?
Product Dimensions: 24.80″D w/ handle x 15.00″W x 34.00″H (36.00″ w/ wheels)
After using the NewAir 15″ Outdoor Fridge for over two months, this is what I've discovered.
Delivery and Set-up
The NewAir Outdoor Fridge came quickly, and everything was well-packaged and in great condition.
The setup was pretty straightforward. You can either add the casters (which are the wheels using small screws) or screw in the provided legs. The legs are long, and it will take a few minutes to get them installed.
The door handle also has to be installed with two screws. At first, I didn't understand the instructions and was trying to maneuver the screws around the seal on the door. You don't do that!
You pull the seal from the door and install the screws. I thought that I was going to harm the seal, but it's designed to be removed. Putting the seal back into the door when the handle was installed was simple.
Also, don't screw the handle in too tight. It's best to use a manual screwdriver for this (not a drill), or you'll cave in the stainless steel panel on the door.
Give yourself about 15-20 minutes to get the fridge ready to use.
I also let the fridge set for a few hours before plugging it in; people say that if a fridge is shipped upright that it's not necessary, I wasn't going to take a chance.
It Looks Amazing
I'm going to start with looks. I know that looks are not everything, but in this case, it's crucial. This outdoor fridge looks incredible. This fridge has a stainless steel door with an elegant stainless steel handle that reaches from top to bottom and is wrapped in black metal for durability. The NewAir 15″ outdoor fridge is going to will look great wherever you decide to place it.
I love that this fridge is front vented, which means it can be built into your cabinets or used as a stand-alone unit. Our deck had a slight lean to it, so I was concerned that I wouldn't get it leveled – but the extra long adjustable legs handled the situation like a pro. I did find (when I had the wheels on it) that the casters would slide easily, and when I tried to open the door, the back end of the fridge would slide out as well. Adding the legs to the front solved that problem.
The back of the fridge is completely flat. This allows you to slide it right up against a wall. You don't have to worry about taking up a ton of room with this fridge; its slim design is awesome.
The venting is on the front of the unit. This allows you to enclose it in your cabinets or backyard kitchen.
This fridge isn't designed for rugged use and will scratch if you're not careful. After 2 months of use, with 3 kids in the mix, I noticed a small stretch on the stainless steel and little scratches on the top of the unit. I did try to be very careful with it, but of course, you can't be with your kids 24 hours a day. To be honest, I don't even know if it was the kid's fault; it could have been me that caused the scratches.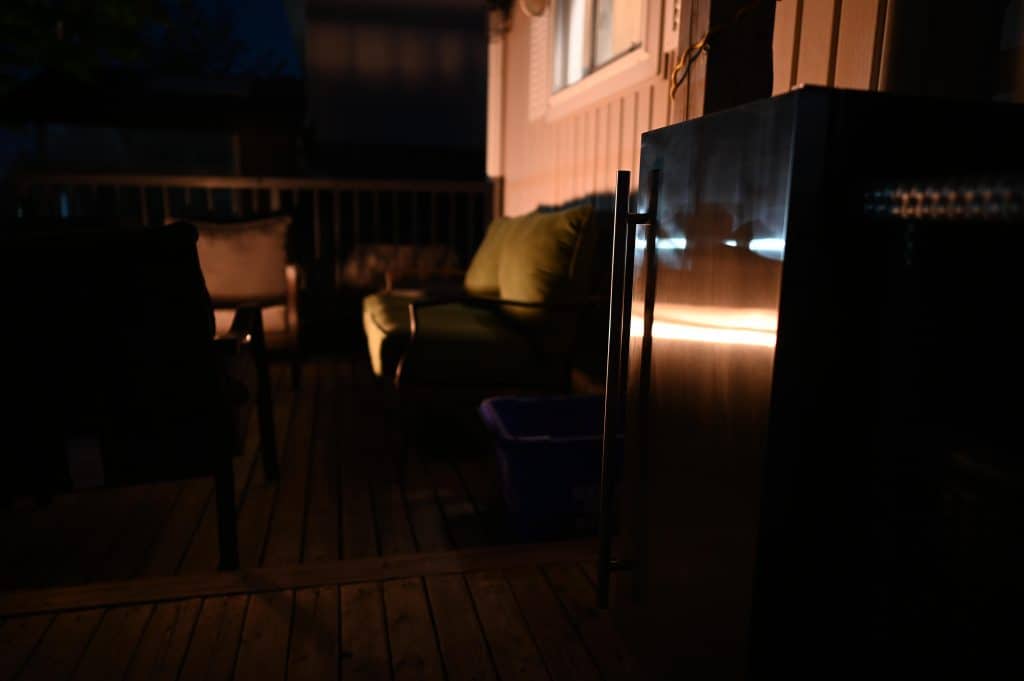 When you open the door of the fridge, you're welcomed with a gorgeous blue glow. They could have used an ordinary LED light, but the blue light brings it to a new level of sophistication.
When we want a drink at night, we can find exactly what we want. The light illuminates the fridge well and is consistent from top to bottom.
You can also turn the blue LED light off with a push of a button.
Great Features of the NewAir 15″ Outdoor Fridge
This fridge is designed with everyday life in mind ( I really like that). There are a few features that are definitely worth mentioning in this article because they're so brilliant.
Self-Closing Door
The self-closing door is awesome. This coming from someone that has 3 kids who never close anything. Outdoor fridges can't be left open, or all the cold air will quickly disappear- the self-closing door fixes this issue.
I found that it may close a little too harsh, but overall, it's a great feature for an outdoor fridge.
Temperature Control
I also like the ability to change the temperature. This makes chilling any type of beverage straightforward. Use the plus and minus arrows to set the perfect temperature within the fridge.
I'm kinda a nerd when it comes to this kinda thing, and the NewAir 15″ Outdoor Fridge gives you complete control over the level of cold you desire.
You can also lock the temperature so that your kids don't keep changing it up or down. The fridge also has a lock on the front door. I don't use this feature a lot because my kids are older, but I can see how it would be useful.
Below is a chart that I found useful, when deciding what temperature is best for any type of beverage that I want to put into the fridge.
| | |
| --- | --- |
| A Can of Pepsi | 5.6˚C (42˚F) |
| A Can of Coca-Cola | 3.3˚C (38˚F) |
| Juice | 8˚C (46.4˚F) |
| Dairy | 1.7˚C (35˚F) |
| Iced Coffee | 6˚C (42.8˚F) |
| Water | Between 12˚C and 15˚C (53.6˚F-59˚F) |
| Whiskey | 15˚C (59˚F) |
| Vodka | 7˚C (44.6˚F) |
| Brandy | 20˚C (68˚F) |
| Beer | 7˚C-10˚C (44.6˚F-50˚F) |
| Red Wine | 16˚C-18˚C (60.8˚F-64.4˚F) |
| White Wine | 10˚C-12˚C (50˚F-53.6˚F) |
| Champagne, Sparkling Wine | 8˚C-10˚C (46.4˚F-50˚F) |
| Rose | 10˚C (50˚F) |
| Sparkling Water | 8˚C-10˚C (46.4˚F-50˚F) |
I can't talk about temperature control without mentioning how precise this unit is. I tested it a few times to ensure that its settings were the correct temperature that I had set it to, and sure enough, it was very close.
Consistant Temperature
You'll also notice the correct temperature is consistent no matter the weather outside. Whether it's rain, sun, or cloud – this fridge will always serve you the perfect temperature beverage. Even on the chilly Canadian nights, I found that this fridge stayed true to its set temperature. When the sun came out, and it became sweltering outside, the fridge always kept up.
Built-In Door Alarm
The NewAir Outdoor Fridge has a built-in alarm that will sound when the fridge begins to lose its cool 😎. It's a great feature when the kids stand with the door open, trying to decide which cola to grab. It's an annoying sound when you're trying to fill it up. My wife will call out from across the patio – close the door already!
Adjustable Shelving
Another great feature of the fridge is the ability to change the height of the shelves. We have so many different beverages in our fridge that the ability to adjust the shelf height is almost a must. Whether we're adding a Coke Zero or Gatorade, this fridge always has the configuration we need.
It's also easy to slide the shelves out. I found that leaving some shelves to the side was a great way to create a little more room. I didn't find that the fridge was too small. There was plenty of room for our family of 4 for all the beverages we needed, or better yet, we wanted.
Elegant, Yet Affordable
When it comes to purchasing an outdoor fridge, there are two different tiers. You'll find outdoor fridges that are very expensive (around $3,000), with great features and a high-quality design. You'll also find cheaper outdoor fridges (around $500) that are stingy on features and don't give you the control that you'll want with an outdoor fridge. The cheaper outdoor fridges are like glorified indoor mini fridges with a little more insulation.
The NewAir 15″ Outdoor Fridge is a perfect balance between both quality and affordability. With this fridge, you get a high-quality product at an affordable price. This fridge is comparable to the units that cost over $3000, but only a third of that price.
Is the NewAir 15″ Outdoor Fridge Worth It?
If you are looking for a high-quality, feature-rich, slim-designed outdoor fridge, then I strongly recommend the NewAir 15″ Outdoor Fridge.
PROS
Stainless Steel
Slim design
Temperature Control
Casters or leveling legs
Front Vented
Consistent Temperature
Removable and Adjustable Shelves
Lock and Key
Blue LED light
Affordable High-Quality Outdoor Fridge
CONS
Marks Easy
The Unit Will Roll When You Open the Door (You Cannot Lock the Back Wheels)
In my opinion, it's a fridge that doesn't just look great but is built to keep your beverages cool no matter what the temperature or condition is outside. It's a fridge that is going to be used by the entire family.
I know my entire family loves it.
I really liked using this fridge and thought the features and design were extremely high-end for its price.
Our family keeps it stocked and I know that my beverages will be cold because the door won't stay open.
You have to check it out today and consider it for your outside patio or deck. It's worth your serious consideration.
For my top choices of outdoor fridges, you can see them all here.
The NewAir 15″ Outdoor Beverage Fridge
Use the coupon code BETTER10 to save 10%.

I really liked this fridge. It's high-quality and looks fantastic! I used this fridge for over two months before reviewing it and can confidently say that it's one of the most affordable, quality outdoor fridges on the market today.
Advertisement
Millions of men and women are enjoying a faster metabolism, increased energy and healthier, happier lives . . . Learn How You Can Join Them