The products and services mentioned below were selected independent of sales and advertising. However, Better Home + Living may receive a small commission from the purchase of any products or services through an affiliate link to the retailer's website.
Are you on the market for a commercial slushie or granita machine? If yes, then you have come to the right place. We have done all the research to ensure that you'll get the best slush machine for your business.
Check This Out: The Top Slushy Machines For Your Home
A commercial slushy maker is a great machine for those who are seeking to make delicious frozen beverages. Slushy machines can produce a lot of profit for your business, as people love delicious frozen treats. The cost to sell a 24 oz cup of frozen slush would cost you about $0.34 per serving. This includes the price of the cup, syrup, lid, and straw. This means that you can easily earn 80% profit on all the slushies you sell.
On those hot summers day, you can sell a lot of slushes which means a lot of profit for your business. These units pay for themselves over the course of the year.
Advertisement
Complete Our Short Quiz To Find Your Perfect Online Job / Take Our Quiz Now
The investment just makes sense. We found the best deals available online, so you can start making slushies right away.
Different Types of Slushy Machines
There are three types of slushy machines that you should consider before you decide to purchase a slushy machine for your business.
⭐️Liquid Auto Fill Slushy Machines
These units draw the liquid product mix from a reservoir and refill the main bowl when it's needed.
These units require an external pump to get water which can take up more space and cost more money for the installation. Overall, these types of units will save your employees time refilling the unit.
⭐️Powdered Auto Fill Slushy Machines
These types of units have a reservoir that will hold the powdered mix and automatically mix them with water inside the reservoir. These units also need an eternal pump for water in order to function correctly.
⭐️Standard Pourover Slushy Machines
These types of machines need to be manually filled.
You add the syrup and the water into the reservoir, and it produces the slush over time. You would need to refill the syrup and water after the reservoir gets to the halfway point. These are the cheapest commercial slushy machines to purchase. It takes a longer time to create slushies because the employee must manually combine the syrup and water.
Unlike home slushy machines, commercial slushy machines are ruggedized and made with high-capacity tanks to make enough frozen drinks for many people. Some slushy machines can make 50 cups at one time, while others can make as many as 100 cups.
Before buying a slushy machine, there are several things you need to consider.
In this guide, we're going to investigate what makes a great slushy machine and the reasons why you should invest in one for your business.
If you do not have time to read this guide in its entirety, then I suggest that you purchase one of the machines on our list below. They are the best ones available on the market (based on the features we looked at).
1. VEVOR 110V Frozen Drink Machine
This VEVOR commercial slushy machine is in a class of its own. It is a powerful and stable machine with a 24-liter capacity that is perfect for large households, restaurants, and any business looking to make a profit on a slushy machine.
Note: If you are looking to purchase an ice maker, then the VEVOR 110V commercial ice makers are a great choice. Read my complete review on every VEVOR 110V Ice Makers to learn more.
The machine is a breeze to control and is made from superior quality materials.
It is perfect for making slushies, frozen margaritas, and other cold beverages.
PROS
Powerful machine: This Vevor commercial slushie maker is pretty powerful. It is a 700W power machine with an Embraco compressor for strong refrigeration and a strong motor for perfect mixing. Works well even when on for extended periods. 
Superior quality food-grade material: The containers are made of a food-grade and shock-proof PC material. In other words, the materials make this slush machine safe and long lasting. 
An easy-to-use control panel: The control panel on this commercial slush machine is a breeze to use. This is because the buttons are simple and well separated. The buttons are also illuminated making it easy to press the right thing even in dim light.
A large volume slush machine: This VEVOR commercial slush machine comes with two massive 12-liter tanks. Each can hold about 50 cups of any beverage you are making. And while the size is massive in volume, it is still very compact taking up less space. 
Nighttime refrigeration: Using its nighttime refrigeration function, you can refrigerate any remaining stock in the big 12 L tanks, helping keep whatever you are making cool and fresh. 
Wide application: Can be used in any place with a large demand (e.g. a large household, schools, hotels, convenience stores, and chain restaurants).
CONS
A bit pricey compared to other slush machines 
Difficult to find replacement parts
MORE SPECIFIC DETAILS
Manufacturer: VEVOR
Installation and operation: Easy to install
Material: Food-grade material
Total weight:123 pounds
Size: 14.3 length by 19 width by 29 height  (inches)
Tank capacity: 12 L * 2
Wattage:700 w
2. VEVOR Slushy Machine 110V Mini Slushy Machine
This VEVOR slushie machine is compact, durable, and perfect for use at home or for your business. It comes with a strong 300W compressor with the ability to make frozen drinks quickly and efficiently. 
The machine also has a fast and effective food-grade mixer that quickly stirs beverages to make them ready to drink.
This mini slush machine is perfect for those looking for a strong slushy machine for home use and for hosting parties.
PROS
Stylish and functional design: This is one of the well-designed slushie machines. It looks attractive and its two tanks can be controlled separately for different results.  
Powerful and compact frozen drink machine: This machine comes with a strong and steady compressor that provides very decent refrigeration and a food-grade stirring device that provides the perfect 360 degrees mixing. 
Suitable for both family and commercial use: With its 5-liter total capacity, this machine can serve up to 16 sixteen cups of any beverage every 25 minutes. It is, therefore, perfect for large households and for small commercial establishments. 
Super easy to control: The buttons on this machine are well-labelled and easy to control. The control panel can also be illuminated to make the buttons easier to see in dim light. Anyone should be able to quickly make any drink with this machine. 
Wide application: This VEVOR commercial frozen drink maker is perfect for making a variety of drinks including frappes, granite drinks, iced coffee, iced tea, frozen cocktails, slurpees, slushies, and fruit juice.
Water junction box: There is a water junction box under each beverage tap. The boxes have ample spaces for settling cups or glasses and they collect any overflow preventing messy spillage. They can quickly be removed cleaning if need be.
CONS
The 2.5-liter tanks are too small for real commercial use in restaurants or for large events. 
MORE SPECIFIC DETAILS
Manufacturer: VEVOR
Installation and operation: Easy 
Material: Superior quality food-grade PC containers
Total weight:64.7 pounds
Size: 18.9 length by 18.9 width by 25.2 height (inches)
Tank capacity: 2.5L * 2
Wattage:300W
3. BEAMNOVA Slushy and Margarita Maker
This machine from BEAMNOVA has got to be one of the best quality slush or slushy makers ever made. Why? Because of three reasons. 
First, it is made of excellent quality materials and components. The quality, materials, and components make it a safer, more powerful, and efficient slushy maker.
Second, it has got two massive 15-liter tanks. This makes this slush machine perfect for a business that's ready to serve a lot of people.
Lastly, each of its tanks is separately adjustable. You can use this unit to make two separate beverages or one – the choice is yours.
PROS 
The perfect compressor: This BEAMNOVA features a cleverly-made compressor with the ability to provide fast cooling while at the same time not using as much energy as similarly-powerful compressors. It is also pretty low noise.
A food-grade mixer: The mixer built into this machine is a food-grade mixer made of safe and hardened materials. It is designed in such a way that it provides rapid 360 degrees mixing to give your drinks the perfect consistency. 
Two 15-liter capacity tanks: This machine features two huge 15-liter tanks that are perfect for making frozen drinks for commercial establishments and for large households. The two tanks can be independently controlled to make different types of frozen drinks in terms of ice hardness.
Ergonomic handle: You will love the big press-down handle on each tank outlet. This is because they are very easy to use to dispense any kind of frozen drink. 
Wide stable base: The base on this unit is wide and stable to keep the machine sturdy when it is working at high speeds. 
Large water disposal pan: You do not have to worry about drinks overflowing and your countertops getting messy with this commercial slushy maker. The disposal pan collects all the drippings and can be easily and quickly emptied. 
CONS
Cannot be used to make reduced quantity beverages as the liquid level needs to be higher than the evaporator's upper end.
MORE SPECIFIC DETAILS
Manufacturer: BEAMNOVA
Installation and operation: Easy
Material: PC tank and steel mixing arm 
Total weight:125.7 pounds
Size: 16.8 length by 15 width by 32 height (inches)
Tank capacity: 15L * 2
Wattage:400W
4. Happybuy 110V Commercial Slushy Machine 600W
There are many slushy makers out there that are labeled as commercial. However, not all of them have true commercial features with the capacity to create three-dozen liters of high-quality frozen drinks.
But this one does. 
The Happybuy 110V commercial slushy machine is big and works like a charm. It is perfect for creating frappes, iced coffee, frozen cocktails, juices, slurpees, coffee, tea, and cappuccinos. And with its separate controls for each 12L tank, it ensures your customers have the variety they crave. 
PROS
Powerful Secop compressor: This machine has a fast and powerful Secop compressor with the ability to make slush fast (

in 30 minutes

) while using less power compared to similar compressors. This makes it perfect for commercial operations. 
Advanced mixing arm: This machine has an electromagnetic transmission shaft that mixes better, faster, and more efficiently for the ultimate frozen drinks. 
Three massive 12L tanks: You will love this machine when using it for commercial purposes as you will rarely run out of frozen drinks because of its massive capacity. Also, all three tanks are made of PC, which makes them flexible, unbreakable, temperature-resistant, and very durable. 
Separately controlled tanks: You can control this commercial slushy maker's three tanks separately. You can do this by adjusting the hardness and softness of drinks that come out of each outlet.  
Wide application:This machine is perfect for making and dispensing many types of frozen drinks including tea slushies, cappuccino, coffees, smoothies, fruit juices, frozen cocktails, and granite drinks. 
Made of top grade materials: This machine features top grade materials for the tanks and for the evaporator. They are durable and extremely safe.
CONS
This HappyBuy commercial slushy machine has a weak warranty. 
Operating it takes a couple of days to get used to.
MORE SPECIFIC DETAILS
Manufacturer: HappyBuy
Installation and operation: Takes a couple of days to get used to
Material: Durable PC
Total weight:163  pounds
Size: 23.5 length by 14.5 width by 32 height (inches)
Tank capacity: 12L * 3
Wattage: 600W
5. Omega OFS30 Commercial Slush Machine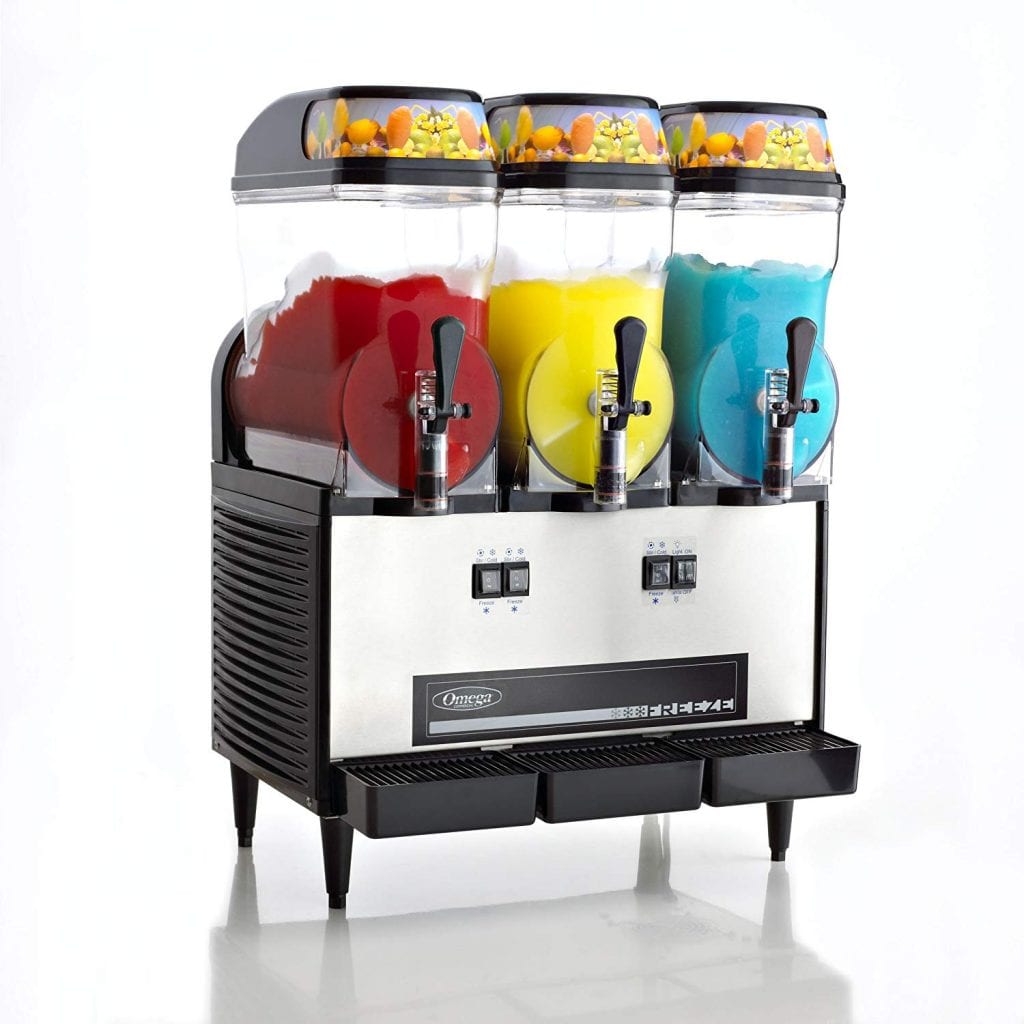 This Omega machine is the ideal slushie maker for anyone seeking a powerful slushie maker for a food business. This is because it is fitted with a powerful 0.5 horsepower motor with the ability to make the best consistency slushies.
What most people love about this Omega machine is the fact that it is made of very high-quality materials. They are safe for making food and are tough and durable. The materials, (the hard-impact plastic used to make the tanks), can perfectly handle tough commercial conditions.
People also love the fact that this machine comes with a solid 1-year warranty, which is a good thing because it is a little on the pricey side of slushy machines.
PROS
High-performance machine: The Omega OFS30 is a high-performance commercial frozen drinks maker fitted with a powerful 0.5 horsepower motor and a very effective refrigeration system.
Three huge tanks: You will find three huge 3-gallon tanks on this slushy maker. The huge tanks make this machine perfect for busy fast food restaurants, for outside catering, and for large food-serving businesses.
The tanks are made using a tough but safe material: The material used to make the three tanks is high-impact plastic and it doesn't destroy easily.
Easy dispensing taps: Unlike other slushy makers from whose outlet you cannot easily dispense whatever you have used them to make, the Omega OFS30 has got very easy to use taps. You can even use any of them to dispense frozen drinks single-handedly. 
One year warranty: A one-year warranty is a great incentive to spend money on a machine as expensive as this one. This is because it gives the purchaser the peace of mind that the machine will work fine, and that it will be repaired for free in case it fails or develops any problems on its own. 
A design that is a breeze to clean
CONS
MORE SPECIFIC DETAILS
Manufacturer: Omega Juicers 
Installation and operation: Quick and easy
Material: High-impact plastic and stainless steel
Total weight:N/A
Size: 24 length by 18.5 width by 33.25 height (inches)
Tank capacity: 11.4L * 3
Wattage: 980W
6. Slushy Machine by US Solid
One of the most important things to consider when buying a commercial slushy maker is toughness and durability. Why? Because commercial slush machines have to do a lot of work and, therefore, if the model you end up buying is not tough enough, it will not last long enough for you to make money with your investment.
One of the toughest slushy machines out there is this one, the US Solid Slush machine. If you have ever bought any US Solid Inc. equipment or machine in the past then you do know that this machine always makes masterpieces. This one right here is another masterpiece. 
Its tanks are made with hardened plastic, its refrigeration system features a superior quality European compressor while its twisting arms are made of stainless steel to make the best, strongest slushy machine on the market.
This unit really is a workhorse.
PROS
A tough commercial slushy machine: Unlike even the best home slush machines that can break down easily put under too much pressure, this one is a proper commercial slushy machine that can withstand the demands of hard work in restaurants, bars, gas stations, convenience stores, and large households.
Freezing process: This machine has a European compressor that enables it to make wonderfully frozen slushie drinks. 
Two huge tanks: With the two 15-L tanks on this slushie machine, you can make enough of frozen drink for your customers, guests, or family members. 
Quality materials: The materials used to make this machine are super tough and durable. For instance, the two tanks are made of a hard plastic that is safe, unbreakable, and resistant to temperature fluctuations.
Money-back guarantee: In case you buy this machine and then you find something wrong with it, you can return it to get your money back. Not many other slushy machines have a money back guarantee. 
CONS
Some customers have complained that its motors can get somewhat hot. However, if its ventilation vents are not being blocked by anything, this should not be a problem. 
MORE SPECIFIC DETAILS
Manufacturer: US Solid
Installation and operation: Takes some time to get used to
Material: Hard plastic
Total weight:135 pounds
Size: 17 length by 22 width by 29 height (inches) 
Tank capacity: 15L * 2
Wattage:(110V)
7. Margarita Girl Double-Bowl Full Size Margarita Slush Frozen Drink Machine
This Margarita Girl slush machine is the perfect commercial slush machine for those looking for a slushie machine for their high-volume bar. This is because it has the capacity to make up to 100 cups of slush of your favorite drink within very little time.
The unit comes with a powerful inbuilt compressor that chills drinks nicely and evenly. The compressor has consistency control and anti-freeze protection. 
PROS
Great for high volume bars: Can make about 100 cups of slush in about 30 minutes and change. 
Strong compressor: The compressor on this thing is well-made and air-cooled. It chills drinks nicely and efficiently.
A solid construction: The materials used to make this Margarita Double-Bowl commercial slushie maker are tough and durable.
Two-year warranty: Margarita Girl, the manufacturer of this product, is so confident about its quality that it has a 2-year warranty on it and its parts.
CONS
It is somewhat heavy so not suitable for outside use.
MORE SPECIFIC DETAILS
Manufacturer: Margarita Girl
Installation and operation: Easy
Material: Stainless steel and high-impact plastic
Total weight:102 pounds
Size: 15 length by 15.8 width by 32 height (inches) 
Tank capacity: 11.4L * 2
Wattage: N/A
8. BRAVO ITALIA Slushy Machine
This silver and black Bravo Italia 2 bowls slushy machine is a dependable workhorse from the Bravo Drink Company. The Bravo Drink Company is an Italian company that has been making quality beverage equipment including margarita machines for a very long time. 
Based on their experience it would be reasonable to expect this machine of theirs to be great, and it truly is. It is manufactured for heavy-duty performance and can produce up to one hundred slush cups of any drink you want in less than an hour. 
PROS
Stylish design: Referred to us the original margarita machine, this product is a work of art. It features a simple but eye-catching design that will look good on any kitchen or lower bar counter
Heavy-duty machine: Features materials and parts that have been made for long and hard work. Performs well even in busy commercial settings.
Refrigerated: The Bravo Italia 2 has high refrigeration power and can chill drinks rather quickly.
Powerful 0.5 horsepower motor: This machine has a powerful motor capable of making very good frozen ice slushies.
Two 3.2 gallon tanks: With this slushy maker, you will get up to 100 cups from its massive 3.2-gallon tanks. This shows you just how well designed it is as a commercial slushy maker.
Fantastic customer support: This is not really a feature, it's something you get when you buy this machine in contrast to any other ice slushy machine on the market today.
CONS
May arrive with a minor blemish, but the company has superb customer support which usually helps quickly.
MORE SPECIFIC DETAILS
Manufacturer: BRAVO DRINK
Installation and operation: Easy
Material: Stainless steel and hard plastic
Total weight:99 pounds
Size: 14.5 length by 19 width by 28 height (inches) 
Tank capacity: 12.11 L * 2
Wattage: 800W
9. Margarita Girl Mini Size Margarita Slush Machine
Want to make some delicious frozen drinks such as piña coladas, daiquiris, margaritas, or milkshakes? Well, this machine may help you to do just that. 
The machine is built by Margarita Girl – a newer business that specializes in making soft serve and margarita machines.
Although it costs near $1500 bucks, the downside of this machine is that it can only make 50 cups of slush at once. In our opinion, this unit is more of a best home slushy machine than a best commercial slush machine. 
PROS
Best slushy machine for home: This Margarita Girl machine can make 50 frozen slush cups at one time. This is perfect for families and for small gatherings at home. However, the number of cups is not enough to consider this machine a commercial slushy maker.
Durable materials and parts: This machine features hard-impact plastics, thick stainless steel panels, and very decent parts. It will serve you and your household for a long time if you decide to buy it.
Two-year warranty: The makers of this machine offers a two-year warranty on its parts. This shows just how confident they are about the quality and functioning of their creation.
Consistency control: You can use this margarita machine's control buttons to set the kind of consistency you want your slushies to be. Not every slushy machine has this kind of control.
Freeze protection: You will never end up with a completely frozen drink as this slushie maker has got a freeze protection sensor. 
CONS
Costs nearly $1500 bucks but can only make 50 cups. Similar priced slushy makers generally make about double this number of cups. However, some users and reviewers on the internet believe it is worth every penny.
MORE SPECIFIC DETAILS
Manufacturer: Margarita Girl
Installation and operation: Easy
Material: Stainless steel and high-impact plastic
Total weight:62 pounds
Size: 12.3 length by 13.3 width by 24 height (inches) 
Tank capacity: 6L * 2
Wattage:(120V)
10. Omega OFS20 Commercial 1/3-Horsepower 710-Watt
Compared to the Omega OFS30 reviewed earlier on this list, the Omega slushy machine is much cheaper. Since it is cheaper, one would naturally expect it to have a lower slush-making capacity – this is absolutely correct. Not only is this a smaller unit than the OFS30, but it is also a little less efficient.
What this ice slushy machine has over the more expensive one may be the fact that it makes ice slushies slightly faster.
PROS
Powerful motor: Comes with a powerful 0.33 horsepower motor that makes some of the best slushies ever.
Decent compressor: You will love this machine's compressor. It makes frozen slushies relatively quickly.
Two 11-liter tanks: This commercial margarita maker can make and hold dozens of cups at once. 
Durable materials and parts: The Omega OFS20 is made of durable parts that can handle the demands of fast-paced food establishments.
Single-handed dispensing: You can easily dispense your fresh and chilled slushies from this commercial slushy machine one-handedly. This is perfect especially when you are mixing drinks.
One-year warranty 
CONS
Less expensive than the Omega OFS30 but more expensive than similar slushie makers.
MORE SPECIFIC DETAILS
Manufacturer: Omega Juicers 
Installation and operation: Quick and easy
Material: High-impact plastic and stainless steel
Total weight:N/A
Size: 15 length by 18.5 width by 33.25 height (inches)
Tank capacity: 11.4L * 2
Wattage:710W
OUR COMMERCIAL SLUSHY OR SLUSH MACHINE BUYING GUIDE
Below is what to consider before purchasing a commercial slushy machine:
Total Tank Capacity
If you want a true commercial ice machine then you should go for a slushy maker with a considerable capacity. Buying a small capacity ice slush machine is not wise since you will always run out of frozen slush especially if you run a busy restaurant, convenience store, or gas station.
The minimum total tank capacity you should go for should be 30L or 9 gallons. If you make enough frozen slushies to fill such a capacity, you should have enough ice to serve up to 100 cups before running out.
Durable 
Commercial slushie machines should be heavy-duty. In other words, a slushie machine that is not durable is not a commercial slushy machine regardless of how its manufacturer describes it. 
Check if the tanks are made of tough plastic or manufactured cheaply. Overall, you want the machine to be made of tough steel or any other tough material. If the machine's motor is strong, its tanks are made of hardened plastic, and its base is made of tough metal, then it is a durable machine and should be a good commercial slush machine for your business.
Wattage 
Wattage is the amount of power needed to operate a device. Therefore, the higher the wattage, the more powerful the unit is.
Commercial slushy machines need to be powerful. If they are not, they will break down easily. So only buy a slushy machine for commercial use if it uses at least 300 watts minimum (the higher the better).
Ease of Use
If you want to save time and ensure your customers get their frozen slushy drinks on time, make sure you get a slushy maker that is a breeze to use.
We're not just talking about general usage of the machine, but also cleaning the unit and maintenance.
Manufacturer
Nowadays, there are so many slushy machines available on the market that it's hard to know which company you should use. Some of them are made right here in the United States, some are made in Europe, while others are made in Asian countries.
American and European slushy machines are usually the better quality ones. Their operations manuals/ how to use booklets are also usually written in clear and easy-to-understand English. Also, these units usually have better warranties and offer fast-responding customer service departments. 
So considering how expensive slushy makers are, you are better off going for an American or European brand as it will most likely be better than a brand from another part of the world for the reasons stated above.
Conclusion
As you can see from the list above, there are many great commercial slushy machines available on the market today. Various European and American brands such as Omega, Margarita Girl, and Bravo Drinks are among the makers of high-performance, heavy-duty machines on the list. 
All the products on the list are top products. So pick any for your restaurant, convenience store, gas station, or any business. We are confident that whatever you pick will be of great use to you.
If you have any questions or comments, you can list them below. We hope that this guide has been a great help to you and that you choose the right commercial slushy machine for your business.
Advertisement
Ikaria Lean Belly Juice is a powerful new formula that makes weight loss easier, faster and much more fun - Watch Our Video Now