The products and services mentioned below were selected independent of sales and advertising. However, Better Home + Living may receive a small commission from the purchase of any products or services through an affiliate link to the retailer's website.
Ice has always been part of our lives– for beverages, for keeping foods frozen, for healthcare, and for leisure. Thus, having your own ice maker can be great for the whole family.
Check out the Best Portable Ice Maker
Check out the Best Commercial Ice Maker
Whether you have a knack for throwing parties in your back yard or are planning a summer barbecue bash, few scenarios are more nightmarish than running out of ice and having to run back and forth to the kitchen or store.
You might think that those little ice trays in your freezer might cut it, but larger parties need more ice than what those trays can provide. Even the ice maker built into your refrigerator would not be of much help, as it is not portable and can only fulfill small household requirements.
Advertisement
Learn What Scientists Discovered is Always Present in the Mouth of People with Healthy Teeth and Gums / Learn More Here
As it turns out, there is a great option: invest in an outdoor ice maker for your garage. They do not require much work, are easy to use, and are perfect for the outdoors.
Neither do they force you to run to and from the kitchen every time a guest looks for something to cool their drink. Instead, an outdoor ice maker will make your next party a breeze. You will have unlimited ice at your fingertips. Plus, a top quality ice maker is lightning quick and would not leave you with room temperature drinks.
A garage is a part of the house where the front yard, backyard or pool is located. It is easily accessible for the poolside where your common party is being held.
However, a garage also is a part of the house that can be hot and humid when the summer weather arrives, so if you are planning on purchasing an ice maker perfect for your garage, then keep reading this article.
We took careful consideration in many areas that should not be overlooked in your decision. After all, choosing the right ice maker for your garage will make the difference in your ice maker experience.
Why is it a Good Idea to Invest in an Ice Maker in your Garage, Pool or Patio?
Below are reasons why we believe owning an ice maker for your garage or outdoor patio is an excellent idea.
Easy way to stay cool without leaving the pool
Family bonding and entertainment is mostly spent in the back yard or a poolside which is located near a garage or patio.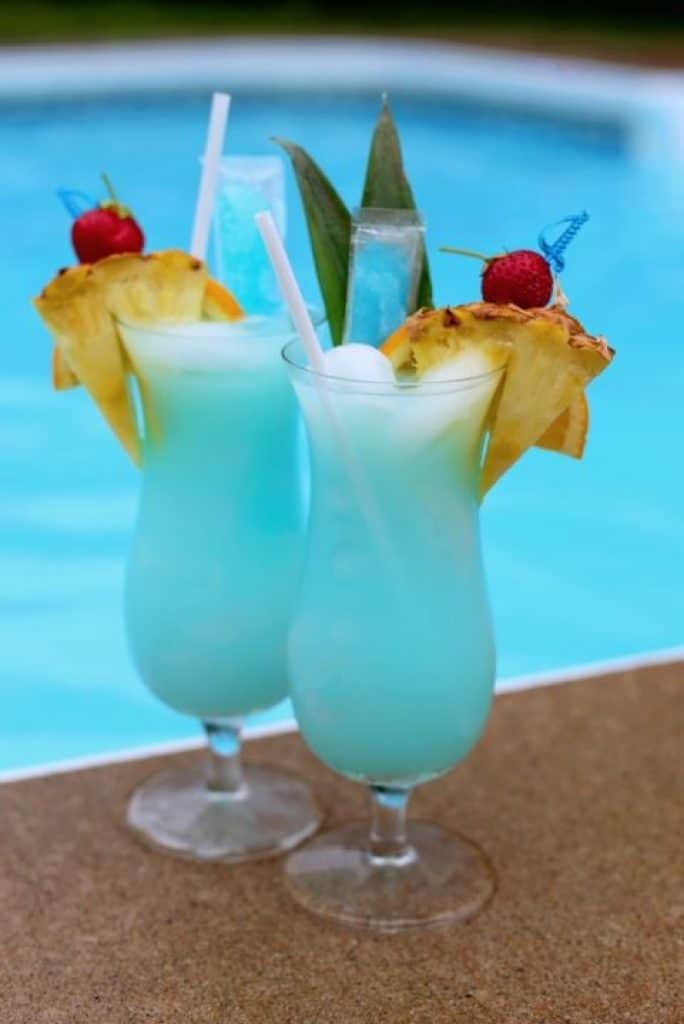 So, if you are having a good time and some drinks, it would be very tedious to go to your kitchen just to grab some ice for your favorite beer or juice. You also wouldn't want your children, who just dived into the pool, to walk in the house with water dripping from their soaked shirt.
You don't want them traveling in and out of your kitchen all day. Aside from it being a messy idea, it can also be dangerous for them because the floor can be slippery when wet.
However, if you have an ice maker in your garage or on the patio beside the pool, you can easily grab some ice in a few steps without messing your house's interior.
With that, you will not miss any part of the story your children are telling or any precious moments with them. You can keep laughing without being interrupted to get an ice.
Convenient
If you need ice, you will have ice! One of the primary benefits of an outdoor ice maker is the convenience in which it adds to your life. No more having to fill up ice trays and hope the water freezes quick enough, no more running to the nearest Sonic Drive-thru for ice, and no more bags of ice at your poolside that melts and leaves a giant mess.
No more traversing in and out of the house to cool your drink down. No more dirt being tracked in and air conditioning being let out. An outdoor ice maker eliminates all of these minor headaches and with a simple switch of a button you can be confident that enough ice will be available for everyone.
Pure and clean
Another rewarding benefit of an outdoor ice maker is that you know your ice will be pure and clean.
The built-in filter is designed to purify the water before it freezes, so you can rest easy knowing that you are serving up pure ice to your family and guests.
With an outdoor ice maker, your guests can put their ice straight into their cups, and you never have to worry about being embarrassed when someone stares blankly into their cup, at dirty ice.
Quick Ice Packs
Everyone knows that ice has several benefits. Ice even has its use if someone gets hurt such as rolling an ankle, making a good, and immediate ice pack to alleviate the pain. Quick access to your garage for an ice pack can give immediate care to someone in need.
These are just a few perks of having an ice machine in your garage, patio or outdoor BBQ station. If you are now thinking of purchasing one for your home, below are the things you need to consider.
What to Look For in an Outdoor Ice Maker?
One of the reasons people choose outdoor ice makers is because they can keep a gathering going on for hours. However, as common sense tells us, not every outdoor ice maker is built in the same manner.
Which is why you need to identify the features which separate the best outdoor ice makers from the second rate ones.
Suitability for Outdoor Conditions
Many think that portable ice makers and outdoor ice makers are two names of the same product and features. That is a misconception.
Units that are advertised as outdoor ice makers are built to last for outdoor settings. They have some properties which not all portable models can provide such as its stainless steel construction and high temperature rating.
These features are the most important in checking a machine's suitability for being used outdoors. Ice maker's stainless steel construction help them to last in high humidity or temperature. Take a standard steel ice maker outdoors, and the presence of humidity in the air will cause it to rust quickly. That's why you need models which are made of stainless steel or other weather resistant materials.
As experts tell us, stainless steel icemakers are corrosion resistant. They have an oxide layer on top of the steel's surface, one which keeps the after-effects of moisture at bay.
The machine's high-temperature rating is also something to be considered. When choosing the temperature rating of your model, try to keep this note of caution in mind: the higher the temperature rating, the less will be the unit's ice production rate. What you need, therefore, is a balance between the two. Units that are rated up to 100 degrees Fahrenheit should be able to work in hot environments without decreasing their ice production rate.
Production Capacity
When deciding what production capacity you want your machine to have, look at your requirements.
For instance, if your parties are limited to less than 10 people, paying extra for a machine that produces 25 pounds of ice per day can be overkill.
Conversely, if you often throw a big party with a large number of attendees, you might want to invest in a machine churning out north of 50 pounds of ice per day. It goes without saying that machines which provide this much ice won't come cheap.
Basically, a higher production capacity mean more ice, more frequently.
Reliability
The name of the company depends on the quality of its products.
Make sure to purchase machines from top rated companies which can provide stellar products and services.
The reliability of the ice maker is its total package—from its features to its internal and external design.
Special Features
Every device has some features which do not have as much an impact on its performance as they do on the user experience.
Commonly known as add-ons, such features make using the device a fun experience and user-friendly. The best outdoor ice makers also have some features that take your experience of using them to a whole new level.
These may include indicator lights, recycle water, and an energy star rating. Indicator lights can perform various functions. Some models have LED lights that light up to tell you to add more water. Others, use them as a full ice basket indicator.
Another good add-on is that the ice maker has the ability to self-clean when needed. Self-cleaning functions are great to ensure that your ice is always pure and that it doesn't take away from the flavor of your beverage. One common feature that you should look for and be aware of is ice makers that have an Energy Star Certification. Outdoor ice makers that come with an Energy Star certification operate more efficiently and consume less electricity to keep your electricity bill down.
What is the Most Recommended Ice Maker for your Garage, Pool or Outdoor Patio?
For the above reasons, the most recommended ice maker for your garage is the EdgeStar OIM450SS Outdoor Undercounter Clear Ice Maker.
This ice maker is our top pick because apart from having the best cost to performance ratio of any unit we reviewed, this machine is simple to use, easy to maintain and supports both built-in and freestanding installation.
[content-egg-block template=custom/all_offers_grid]
This ice maker is really good in garages as it can fit into snug spaces. It is 3 feet in height (33.5 inches), measures 14.6 inches width x 23.6 inches depth.
Outdoor Approved
Most people think outdoor icemakers cannot be stylish. Most people, as it turns out, haven't yet seen the commercial-grade stainless steel design of the EdgeStar.
This incredible design is carried throughout the entire unit from its internal function to the construction of its door.
| | | | |
| --- | --- | --- | --- |
| Depth | 23.6 in. | Height | 32.8 in. |
| Nominal Depth | 24 in. | Nominal Height | 33 in. |
| Nominal Width | 15 in. | Product Weight | 78 lbs. |
| Storage Capacity | 25 | Total Production | 50 lbs |
| Width | 15 in. | Ice Bin Included | Yes |
| Ice Maker | Yes | Accepts Custom Panels | No |
| Automatic Door Closer | No | Clear Ice | Yes |
| Counter Depth | Yes | Cube Style | Full Cube |
| Drain Required | Yes | Installation Type | Free Standing, Undercounter |
| Refrigerant | R-134a | Theme | Contemporary, Modern, Industrial |
| Amperage | 4.8 | Voltage | 115 |
| ADA | No | Application | Ice Maker |
| Approved for Commercial Use | No | Energy Star | No |
| Manufacturer Warranty | 1 Year Parts and Labor | Quick Ship | Yes |
Chart Taken from Edgestar.com
True, the main purpose of the door is to withstand humidity and prevent the build-up of rust, but it also ends up giving the entire unit a stylish look.
Commercial ice makers are intended for indoor use. When they are placed outside, they are subject to rust and other damages from weather conditions as well as corrosion from salty sea air.
This was before an outdoor ice maker was introduced. Outdoor ice makers are machines that are designed for outdoor use and would work well in a garage because they are built to withstand the extreme hot and cold temperature often experienced in garages, poolside or patio.
If you are using a standard indoor under-the-counter ice maker at your home, you should not attempt to use it in your garage or outside. Indoor ice makers require a certain ambient temperature to work properly, and unless your garage is highly insulated or temperature-controlled, it probably does not fall within the ambient temperature range needed. You would start to see performance problems above 90°F and below 50°F.
The EdgeStar OIM450SS ice maker is fully wrapped in sleek and durable stainless steel, it is the perfect option for your garage or patio. It is built for outdoor use because it can withstand 50 to 100 degrees Fahrenheit.
Large Ice Capacity
EdgeStar OIM450SS Outdoor Undercounter Clear Ice maker is able to store up to 25 pounds of ice at a time in the removable ice bin.
It can produce up to 50 pounds of ice in 24 hours.
This capacity is great for entertaining, hosting large parties, and making frozen beverages in the comfort of your home. Also, the hardness of the clear cube ice it produces melts slower than regular ice which means you can enjoy your cold beverages longer.
Clean Ice
To make sure that you always get clean ice, this unit features a built-in water filter.
This undercounter ice maker also comes with a wash function that is used for keeping the EdgeStar OIM450SS clean and producing pure, tasteless ice for your home.
Built-In or Freestanding Capable
At a height of 33.5 inches and equipped with a front venting system, this ice maker can be used as a built-in your custom cabinetry. However, it also has attractive stainless steel cabinet if you wish for it to stand on its own.
Note: This ice maker does not allow you to install custom panels on the front of the unit.
Freestanding installation will allow you to install this ice maker in any place with access to a water supply and a drain.
Attractive Design
The commercial-grade stainless steel wrapped cabinet paired with the elegantly curved handle creates a sleek and modern look that is sure to match or complement any contemporary décor.
Clear Ice: Yes
Defrost Type: Manual
Depth: 23.6″
Drain Required: Yes
Height: 32.8″
Hinging: Reversible
Reversible Door: Yes
Total Capacity: 25
Total Production: 50
Width: 15″
Plus, an additional feature of this ice machine is its reversible door.
Easy-to-Use Controls
Ice production is easy to control due to this unit's computerized controls.
This is a great feature of this machine which makes it both user-friendly and easy to operate. You can have your ice in no time.
Restaurant Quality Ice
This ice maker makes up to 50 pounds of restaurant quality ice cubes a day, meaning the ice is clear, tasteless and free of impurities.
This type of ice complements most drinks because it does not change the taste of your beverage.
Sturdy Casters
Upon purchasing this machine, it includes four (4) outdoor-approved casters, two (2) of them have a lock, so your ice maker can go from mobile to stationary with ease.
No need to call for someone's help to carry it to wherever you want it placed in your garage. And once you have chosen the perfect spot for your valued ice maker, go ahead and lock its two casters.
Adjustable Leveling Legs
Adjustable leveling legs help to ensure that this ice maker is always level, and that you are able to limit any spaces between your counter and the unit.
Adjust it to its perfect height with ease.
Included Accessories
For your convenience, the Edgestar OIM450SS ice maker comes with a removable ice bucket making it easy to empty into a larger bin and then make more ice, and for washing the bucket.
It also comes with a good sized ice scoop, and a gravity drain line.
Speaking of the gravity drain line, you'll obviously want to situate the maker near something to drain the melted ice water into. Otherwise you'll have to buy a pump to lift the water up to a sink drain.
You would not have to worry about making another purchase for an ice bucket, ice scoop and water and drain line, because these items come with the unit already. All you have to do is to install in in your garage, and start planning your pool party.
A Great Warranty
This feature promises that you'e getting a top quality product. The manufacturer has designed the product with the highest regard for safety and performance. To prove the high quality of this product, and for the peace of mind of the user, the unit comes with a great warranty.
[content-egg-block template=custom/all_offers_logo]
Note: The warranty for this unit is 1 Year parts and Labor
Conclusion
This outdoor ice maker is a perfect way to take your garage set-up, BBQ station or pool patio to the next level. You won't need to worry about the performance, the durability, and the reliability of the ice maker because the EdgeStar OIM450SS Outdoor Undercounter Clear Ice Maker has you covered.
The added convenience is worth every penny and with proper maintenance and care, your ice maker will last for many years to come.
Advertisement
Millions of men and women are enjoying a faster metabolism, increased energy and healthier, happier lives . . . Learn How You Can Join Them